'People waiting for long to see something different in politics, who are we to say no'
Considered the AAP's Chanakya, the academician turned hands-on politician Yogendra Yadav says people of this country have taken the business of looking after this game called politics.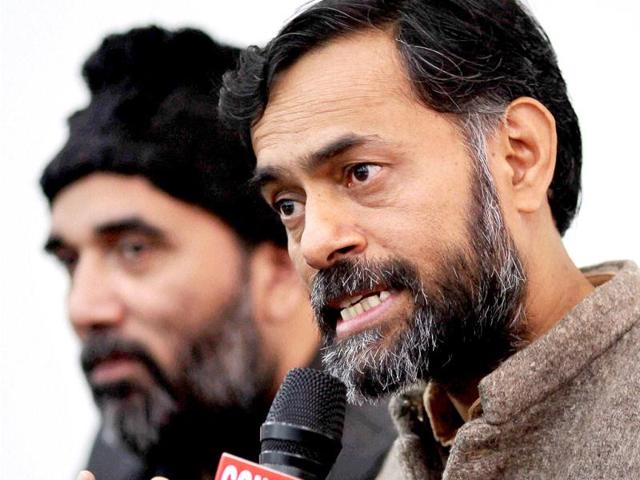 Updated on Jan 20, 2014 11:53 PM IST
Hindustan Times |
, New Delhi
Nivedita Khandekar
After years researching and writing about democracy, democratic theories and elections, the political animal that he calls himself, Yogendra Yadav, took the plunge into active politics with the launch of the Aam Aadmi Party (AAP) in 2012.

Considered the AAP's Chanakya, the brain behind most of the fledging party's strategies along with national convenor Arvind Kejriwal, the academician turned hands-on politician says people of this country have taken the business of looking after this game called politics. Excerpts from an interview by Nivedita Khandekar:
AAP is recently through with Delhi elections and the government has just assumed charge. Isn't it too early to fight Lok Sabha elections? For a barely year-old-party, do you have enough people, money and material?
The honest answer is no. Ideally, if the election commission were to consult us on when to hold elections, we would say, give us a year, give us six months. (But) There is an opportunity, which has presented itself. And our responsibility is how to respond to that opportunity. Our responsibility is to strike a balance, to realise this is an unusual opportunity of a kind of that presents itself only once in two or three decades, may be once in a generation. We need to carefully map the contours, the limitations of this opportunity. This is precisely what we are going to do during the 'Main Bhi Aam Aadmi' campaign, the first membership drive by the AAP.
When you say you are ready for the risk and don't want to miss the opportunity, will you be able to fulfil expectations?
For the AAP, it is more of a challenge than an opportunity. The opportunity is for the people. Those who have been waiting for long to see something different in politics in this country, suddenly all of them have decided this is the moment. And if they decide, who are we to say 'no, this is not the moment'.
After a very long time — I don't remember the last time — people of this country have taken the business of looking after this game called politics. Aren't we all glad people are supervising the politics?
Delhi is a small geographical area, is cosmopolitan and has a smaller range of issues. For pan-Indian reach, how do you identify the issues for a diverse country?
Delhi was special because it was geographically compact, media dense, more educated and less prone to what is loosely called vote bank politics. The moment we step out of Delhi, we meet the rural hinterlands, where the real questions are about rural India, agriculture and the condition of farmers. That has to be the principal agenda of the Aam Aadmi Party. And the issue of corruption itself has to be reframed in each state. So I would expect some set of issues that would remain common though they would have a local flavour. Corruption, the issues of gram swaraj and issues like education and health, these would remain Aam Aadmi Party constants all over India. Besides these, in every state, you would have very state specific issues.
You talk of rural issues on your agenda. Aam Aadmi Party hardly has any presence in rural India. How do you address that dichotomy?
It is true that right from Anna Andolan, we had greater presence in urban areas than in rural areas. But the question is, whether we are more in urban areas because of spontaneous reasons such as media coverage, because of the level of political awareness and a certain ease in gathering people, or, are we limited to urban areas because we carry an urban agenda? The Aam Aadmi Party has an agenda and a platform, which is a mix of rural and urban. Our real challenge is how to carry our message to rural India. And from the limited anecdotal evidence that I have, once the message reaches rural India, our appeal is as much in rural India.
On the national scene, on the one hand we have Hindu resurgence vis-à-vis Narendra Modi and on the other hand, there is, say in UP or Haryana, still a lot of caste-based dominance. Where does the AAP stand?
There was a surge for Narendra Modi in the second half of 2013 largely because there was a political vacuum. The ruling establishment had lost legitimacy, was politically paralysed and was morally repugnant. And people naturally drifted to whoever appeared to be offering a change, even if the change was no more than a substitute. The Aam Aadmi Party's arrival has given an option to those who want change. Do they merely want a substitute from within the establishment or do they want alternatives? Delhi has demonstrated that alternative triumphs over substitute, if it is available.
Something similar holds for the caste question. People do prefer candidates of their own caste, gotra or family, provided other things are neutral. But when they are given a real choice between caste as a factor and real development and welfare of the people, then they opt for those larger questions and do not go only by caste.
Therefore the onus is on the Aam Aadmi Party to make this election a real and substantive choice.
There have been efforts at labelling the Aam Aadmi Party based on party's deliverance of promises in Delhi's AAP government. How do you define the AAP's approach — socialist, capitalist, leftist, right of centre, left of centre? How do you define AAP-ism?
We have deliberately and consciously avoided these dichotomies, binaries of the 20th century, neither what is called left, nor what is called right. For us, the overall objective is very clear, which is defined by the Constitution of India, which is to create a just society, to create a society where the last person's welfare comes first.
Unfortunately the 20th century built religion around this simple and practical question of what serves the people better, especially on the question of state and market. The experience of the 20th century tells us that there is nothing called as absolutely free market with no state control whatsoever and that state control, state monopoly of everything is a complete disaster.
So, the world that we are living in is a world where the markets are here to stay and state regulations are an absolute must. We will go for the best based on evidence and experience. We would rather be known as those who have a given set of objectives and are open to different paths for achieving that objective.
It was a simple 'bijli-paani-Lokpal' agenda for Delhi elections. Which are the prominent issues that would take precedence over other issues in the national agenda?
I can see four issues which would be kind of generic issues all over the country. First is creation of a strong anti-corruption mechanism; second is radical political decentralisation – Swaraj – by way of creation of gram sabhas, mohalla sabhas and serious decision making power to be devolved to them. Third, I would expect education — high quality public education; and fourth, health — affordable and high quality medical care — to become defining features of AAP politics.
Then we would have different questions in each state. Electricity is such a diversified issue all over the country; in some places, the problem is supply, in other, it is pricing. For water, in most places it is the availability of water that is the issue, not so much the price of water.
But why should we be limited by this template? There are areas where internal security is a bigger issue. There are areas where drug, alcohol is the biggest issue. So in politics, you do not determine issues in advance, you learn from the people as to what their problems are and you articulate it.
As in the case of Delhi manifesto, we will do careful thinking, research, consult the best minds, experts, activists, public intellectuals and then come up with our best solutions. We would try to offer specific solutions to specific questions at the national level and also raise local constituency and state level specific issues. We will promise only what is feasible, which is what politics is.
Internal or external security will be an issue. Recently there was a controversy about Prashant Bhushan's remarks about Kashmir. Will your vision document and the subsequent national manifesto that are under preparation spell out your party's stand on issues going beyond it, such as the displacement of Kashmiri Pandits?
Our manifesto at the national level cannot remain silent on some of the major issues of our times. It cannot remain silent on questions like Kashmir, and within Kashmir, it cannot remain silent on the two or three big questions: the question of widespread popular alienation within the Kashmir valley; the question of the plight of Kashmiri Hindus, who were forced to leave their homes, and the question of regional parity and autonomy of the three regions of Kashmir.
These should be addressed in any larger document, not necessarily in the manifesto. Manifesto is about making very specific promises at the time of election. Manifestos are not by themselves comprehensive statements of policy, but they are statements of programme of action.
For Delhi elections, you had almost 10 months for candidate selection. Now, you hardly have two. Will the AAP's Lok Sabha candidates be good enough?
In Delhi we had more time, but we had a much smaller pool to choose from. Today the situation is different. There are, of course, a large number of just opportunistic seekers. But we also have the good fortune of being able to connect with some of the best people in our public and political life. Though there is a genuine regret. In Delhi, we could engage in extensive consultation and secret vote by our volunteers.
In the case of Lok Sabha elections, the problem is not just that we don't have enough time, but also our organisational structure is not fully in place. So we do not know, what is the voters' list, therefore that experiment of secret ballot that we carried out may not be feasible, given the size of the Lok Sabha constituencies and fluid nature of our organisation.
During Delhi elections, the AAP's top leaders were personally involved in scrutiny of each candidate at various levels. For the Lok Sabha polls, you have declared a three-tier scrutiny. Do you have competent people for it?
This time, much of the scrutinising will take place at the state level. We are setting up state committees, composition for which has been specified and each of the screening committee shall have an outsider, a person of integrity in public life and who is not an AAP office bearer. He/she will keep a watch, who will be an ombudsman to the process. As in the case of Delhi elections, we will go for transparency; every nomination will be made public for considerable time.
As for the capacity of our state teams, I personally feel very confident. These are the people who joined the party at a time when this party had nothing to offer. These are people who came from movements and I feel quite confident that we will be able to go for the very good candidates.
Your past experience of internal Lokpal has seen several changes over a small period of time. Are you confident about getting as many ombudsmen across states?
Do remember that was a time when our party was nowhere and it was a very difficult task for someone to be seen to be to be attached to a political party while not being an office bearer or getting nothing out of that. We are grateful to those who gave us their time. We are hoping that now it would be not all that impossible for someone to be wished to be associated with the Aam Aadmi Party.
Right from IAC days, there has been slightly more focus on Haryana. Is it only because it is next-door neighbour or is there more to it?
Actually, Haryana has focused more on us than other states. During Ramlila Maidan agitation, no one was guiding, deciding, focusing. People were coming on their own, and it so happened that Haryana contributed significantly to the numbers, to the enthusiasm, energy during those days. It also contributed in big numbers to the Delhi campaign in terms of number of volunteers. Haryana has demonstrated one of the highest levels of energy in responding to the Delhi result as far as we can see. So that is what makes Haryana special. But it's not that the party has chosen to make Haryana special, it has… like Haryanavis normally do… they have decided to stand out.
In Haryana assembly elections, traditionally, caste factor has been dominant. Will the AAP be able to make a dent?
We made a dent in Delhi. In Delhi, politics has more vote banks than people normally imagine. The AAP broke all those vote banks and created something new and different. The AAP simply ignored it and moved forward. Broadly speaking, that's what we want to do in Haryana. The best way to tackle strictly caste-based vote loyalties is by not trying to enter that game. The best way to handle that is to sidestep it and is to play on your own wicket.
We would raise people's questions and try and shift the terrain of this equation. My own sense is that caste-based politics in Haryana has reached a point of saturation and is waiting for someone to say enough is enough. Now we want to talk about issues of life and livelihood, which is what we will try.
You say you want to steer clear of caste-based politics. So will you maintain a status quo for certain political decisions taken in the past, for instance, OBC reservation for Jats?
Fortunately there is a nationwide mechanism after a long and protracted confusion on this question. The Supreme Court has mandated a mechanism and laid down a clear procedure by which such decisions need to be taken. The courts have said that such decisions should not be arbitrary, should not be based only on the subjective perception of the government in power. The issue is already being debated. The National Commission for Backward Classes is to take a decision on this.
The only thing we should insist on is that the decision be taken by a constitutional body following the strict standards that the courts of law have laid down and then whatever the decision, it should be accepted.
What is your equation with Khap Panchayats?
Khap Panchayats are basically communities handling their own issues. And these are more than what media portrays. But at the same time, the country's legal system has to be honoured and law should take its course. The AAP will not do vote bank politics on the issue of Khaps.
Close Story