PM takes on Modi over politics of 'negativism'
Hindustan Times |
, Jabalpur
Ashutosh Shukla and Neelesh Chaudhari
Nov 18, 2013 10:14 AM IST
Addressing a rally in Jabalpur, he asked people to "think seriously" what the BJP, which believes in "demeaning others", will do to the country.
Prime Minister Manmohan Singh on Sunday attacked the BJP's prime ministerial candidate, Narendra Modi, for indulging in "politics of bitterness, personal attack and insult" while also taking a dig at him for his recent historical goof-ups.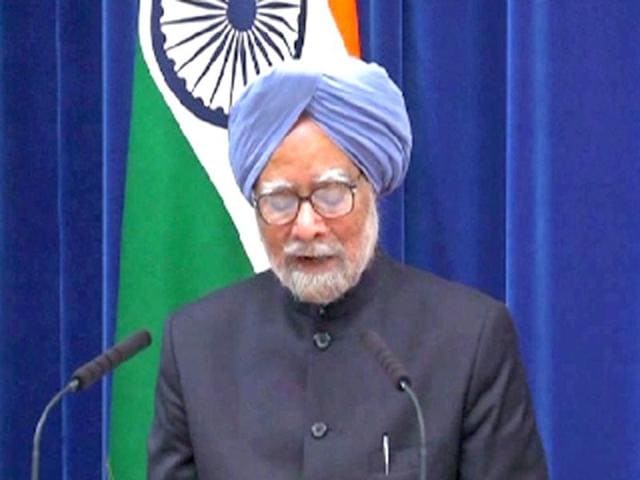 Addressing his first rally in Madhya Pradesh, Singh did not name Modi but wondered if the 'Gujarat model' of development was relevant to the poor and vulnerable in all regions. "India is a vast country where only one model of development cannot work for all regions," he said, adding that policies have to be framed according to the specific needs of specific places.
"I'm sure he has not found the time to ask his party leaders in MP or Chhattisgarh whether they subscribe to his model of development."
On Modi's slip-ups on historical facts, the PM said anyone holding a constitutional post or aspiring for it should weigh his words before speaking.
"In his zeal to malign others, a big BJP leader often resorts to falsehoods. He frequently distorts historical facts. Once, in his enthusiasm to attack the Congress, he misrepresented facts about a leader who is respected a lot in the BJP," Singh said, an apparent reference to when Modi confused Gujarati freedom fighter Shyamji Krishna Varma with Jana Sangh founder Shyama Prasad Mookherjee.
He also took a dig at Modi's sudden interest in the legacy of Sardar Patel, saying he was happy the BJP was inspired by a Congress leader.
Moving on to the achievements of his government, the PM said poverty had come down and rural income gone up during the UPA's rule. Schemes like the rural health mission and right to education ensured better healthcare and education for more, he added.
Accusing the Shivraj Singh Chouhan government of not utilizing central funds, Singh said MP was given Rs 83,000 crore in the last nine years but there still appeared to be an atmosphere of gloom and disappointment in the state. He asked the people to decide if they stood for the 'BJP brand' of negative politics or a politics of positivism.