Sexual harassment at workplace is a subjective but unacceptable experience
A look at real life incidences of sexual harassment at workplace and whether the 2013 Act formulated to protect women from such unwanted attention is enough safeguard. Case studies and legal knowhow inside | "Sexual harassment at workplace is often not overt"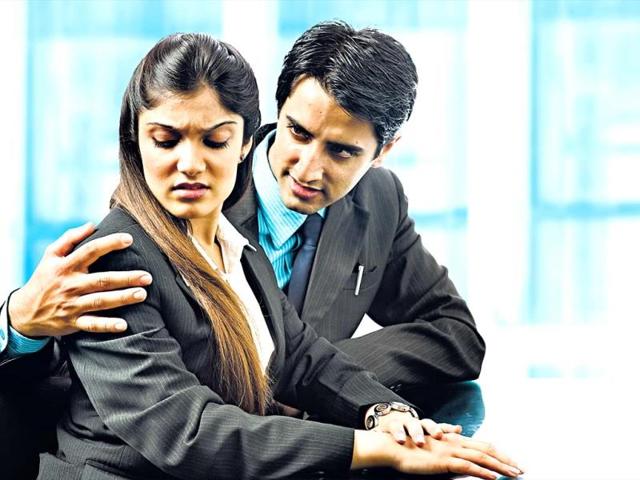 Updated on Dec 01, 2013 09:20 AM IST
While the case filed by a staffer at Tehelka magazine against her editor-in-chief is being seen as a symbol of the glaring absence of women's rights at the workplace, it has also blown the lid off the hypocrisies and appalling lack of awareness around the issue of sexual harassment and gender rights at the workplace.

From comments online, as well as those who have gone on national television to sympathise with Tarun Tejpal, to even Tejpal's own statements, where he seems to have trivialised, almost excused, his alleged behaviour as a "fleeting, totally consensual encounter", it appears too many people are too confused about the basics of it.
The law, meanwhile, has definitions in place.
Section 2(n )of The Sexual Harassment of Women at Workplace (Prevention, Prohibition and Redressal) Act, 2013 (yet to be notified) says sexual harassment "includes any one or more of the following unwelcome acts or behaviour (whether directly or by implication) namely:-physical contact and advances; or a demand or request for sexual favours; or making sexually coloured remarks; or showing pornography; or any other unwelcome physical verbal or non-verbal conduct of sexual nature."
Section 3 of the same Act cites certain instances which might be sexual harassment.
These include "(i) implied or explicit promise of preferential treatment in her employment; or (ii) implied or explicit threat of detrimental treatment in her employment; or (iii) implied or explicit threat about her present or future employment status; or (i) interferes with her work or creating an intimidating or offensive or hostile work environment for her; or (v) humiliating treatment likely to affect her health or safety."
Sexual harassment in itself is not easy to define.
"You know it when you see it," says advocate Karuna Nundy, adding that the woman's feeling of discomfort is the deciding factor. She adds, "You look good' may not be a sexual comment, 'You look hot' is."
But the problem, of course, is that it's never that simple. For someone combating a lecherous boss, it is difficult to read into the legalese.
The country's first formal mandate against sexual harassment at the workplace came as recently as in 1997, with the Supreme Court's legally binding directions in the Vishaka v State of Rajasthan and others case.
The brutal gang rape of Bhanwari Devi, a social worker, brought to the attention of the Supreme Court of India, "the absence of domestic law occupying the field" and the need "to formulate effective measures to check the evil of sexual harassment of working women at all work places."
Expert speak: "Sexual harassment at workplace is often not overt"
While the 2013 Act, that followed the guidelines, defines sexual harassment in similar terms, lawyers working on issues of women's rights in the country feel the Act is not all that they had hoped for.
"This Act has diluted the spirit of Vishaka. It has been drafted using archaic language and legalese which the common persons, the beneficiary in particular, will never be able to understand. It is not user friendly like Vishaka. Unlike Vishaka which prioritised prevention, the 2013 Act prioritises complaints and the complaint mechanism, equipping an Internal Complaints Committee with powers of a Civil Court. Not only is that unworkable it is Constitutionally unviable to create a parallel court in the workplace," feels Naina Kapur, a lawyer.
In 1997, Kapur had framed and acted as lead instructing counsel before the Supreme Court of India in the Vishaka case.
She adds, "It is the 'sexual' part of harassment that creates the most discomfort, an unnecessary socially-conditioned hurdle when we're actually talking about women's Constitutional equality at the workplace." And those working in the field of women's rights feel it is the responsibility of the organisation to ensure that.
According to the Act, every employer is required to constitute an Internal Complaints Committee at each office or branch with 10 or more employees.
The District Officer is required to constitute a Local Complaints Committee at each district, and if required at the block level.
Employers who fail to comply will be punished with a fine of up to Rs 50,000.
But it falls short of US regulations, where the Supreme Court, in cases such as Burlington Industries Inc v Ellerth, has said that in quid pro quo cases of sexual harassment, an employer is always liable for a supervisor's or manager's harassment, if it results in a tangible employment action.
The court had held that in order to defend itself, employers must show that they had exercised reasonable care to prevent and correct promptly any harassing behaviour, and that the employee unreasonably failed to take advantage of any preventive or corrective opportunities provided by the employer.
India's long-awaited legislation against sexual harassment of women at the workplace (it took 16 years since the Vishaka judgement to formulate the legislation), however, poses more questions than it answers.
The United Nations has recognised sexual harassment as a form of discrimination and violence against women. Under the Vishaka judgement too, the need for a law against sexual harassment of women at the workplace was felt to ensure proper interpretation of the guarantee of gender equality, right to work with human dignity in Articles 14, 15 19(1)(g) and 21 of the country's Constitution.
But it is unclear whether gender-based discrimination or sexist remarks (think, this is not a job for a woman) is covered under this Act. Lawyers are divided on the issue.
Explains Seema Misra, a lawyer who works on issues related to women's rights, including sexual harassment, "Sexual harassment is a form of gender-based discrimination, but all gender-based discrimination is not sexual harassment."
However, Vikas Gupta, a Delhi-based criminal lawyer is of the view that this Act can be used to cover gender-based discriminations and sexist behaviour.
"The section that says 'any other unwelcome physical verbal or non-verbal conduct of sexual nature', can be used to include sexist or gender-based comments for often they are the first step towards more serious harassment.
Once the Act is notified and appeals are heard under it, interpretations will follow." MS Khan, a criminal lawyer who practices at the Delhi High Court, believes that gender-based discrimination is not included under this Act.
"Article 15 of the Constitution prohibits discrimination based on sex, but that is not covered under the purview of the sexual harassment of women at workplace Act 2013," he says, adding, "Internationally, workplace harassment includes both gender-based discrimination as well as sexual harassment.
The difference is that in the US or Europe workplace harassment covers both harassment for men and women. Therefore gender-based harassment finds mention there. The 2013 Act however, has been drawn up only to protect women. Men are not covered in it. And therefore gender-based discrimination is also not discussed in this Act."
What the law says
The introduction to the Sexual Harassment of Women at the Workplace Act 2013 says: "Sexual harassment results in violation of the fundamental rights of a woman to equality under articles 14 and 15 of the Constitution of India and her right to life and to live with dignity under article 21 of the Constitution and right to practice any profession or to carry on any occupation, trade or business which includes a right to a safe environment free from sexual harassment."
"And the protection against sexual harassment and the right to work with dignity are universally recognised human rights by international conventions and instruments such as Convention on the Elimination of all Forms of Discrimination against Women, which has been ratified on the 25 June, 1993 by the Government of India..."
Case studies: when quitting is the only option
"I couldn't believe I was being harassed."
Gauri Sharma, 35, Journalist, Delhi
"About a year ago, when I was working in a newspaper, I had to frequently interact with the editor-in-chief directly. I always thought that he considered me as a sincere worker. Gradually, the tenor of his interactions with me started changing. If I had a problem with any male colleague, he would attribute it to my ignoring his interest in me. He would also comment on my looks and attire.
I was in denial. As a journalist who had often reported on and taken a stand against sexual harassment of women, it was difficult for me to believe that I was really being harassed. He didn't want a meeting in the office and insisted on meeting over lunch or coffee.
By then, I was uncomfortable and excused myself. Since then, he kept reminding me about the meeting outside work and also wanted to come to my place. He inquired if there were people at my house and if he could call me over to his place.
I was reluctant to meet him. He started finding excuses to hold my hand and put his arms around me against my will. I wasn't sure whom I could talk to about this and what would be the reaction of others at work. After a few days of this, I resigned."
(As told to Poulomi Banerjee)

Legal Speak: His comments and embracing would fall within the definition of inappropriate conduct at workplace. It is unclear whether the company has a policy or structure in place in compliance with Vishaka read with the 2013 Act. A woman, as well as a man, in the organisation has a right to expect their company to be in compliance with the law, says lawyer Naina Kapur.

"I was told I should be more careful."

Roshni Verma, 27, PR Professional, Delhi
"About eight months ago, I went to an annual office party in Mumbai where a senior colleague struck up a conversation with me.
He was 40-years-old and married. After the party, I was told that he would drop me to the hotel in his car as there was a shortage of cars. I refused as I hardly knew him and he was drunk. But I was told he was a senior person and he won't be driving.
On the way, he started hugging me and put my head on his shoulder. I refused and moved away. He again came close and tried to kiss me and slide his hand under my shirt and even tried to go down on me.
I screamed and managed to get out of the car and reached the hotel. I told my colleagues about the incident. We did not have a sexual harassment cell at the work place.
After I reached Delhi, I hoped for some action. Initially, the company showed regret and told me that one should be more careful. After two weeks of follow- up, he was called to the Delhi office.
He denied the incident and said that I was making it all up. The company asked me what they should do now. I confronted him, but he still denied the incident. A few days passed and nothing was done about the incident.
After about four months, the person was thrown out of the job but because of poor performance. I asked the company why he was not removed when he had sexually harassed me. They had no answer and I left the job."
(As told to Srishti Jha)
Legal Speak: The unwelcome physical contact falls squarely within the prohibited conduct under the definition of sexual harassment. On the face of it, the Company was not in compliance with either the Vishaka Law or the new Sexual Harassment of Working Women (prevention, prohibition and redressal) Act 2013. All their actions were ad hoc and not in line with any legal provision, says lawyer Naina Kapur.
"The girl's reputation is tarnished."
Preeti, 27, HR professional, Delhi
"This happened four years ago when I was working in an NGO. Due to my work profile, I had to interact with the head of the organisation more frequently than some of the others. I shared a comfortable relationship with him. On one of my birthdays, we were on a work tour in Trichy.
After the workshop we had to participate in got over, he came to my room with a cake and champagne. We spoke for a while. Then he approached me and tried to hug me.
I pushed him away.
He then made a more forceful attempt to hug me. I again pushed him away, asking him what had got into him. He sat for a while and then left. After we returned to Delhi, I tried to put it behind me.
However, the situation worsened when I started dating a colleague. He would follow us to see where we were going. Things became very uncomfortable and I left the organisation.
I wanted to lodge some sort of complaint, but he was so senior. Also, often it is the girl's reputation that is tarnished in such cases."
(As told to Poulomi Banerjee)

Legal speak: The mindset that the complainant is tarnished, is the first hurdle. The goal is to bring the focus onto prohibited conduct and inappropriate behaviour of the offending individual irrespective of his or her status.
The unwelcome attempt by the organisation head to hug Preeti would fall within prohibited unwelcome physical conduct as defined in Vishaka guidelines read with the Sexual Harassment of Working Women (prevention, prohibition and redressal) Act, 2013.
The subsequent following of Preeti and her colleague by the organisation head comes under stalking so much so as to create enough discomfort for Preeti to have to hand in her resignation, says Naina Kapur.
"I left the publication disheartened"
Tania Banerjee, 24, Journalist, Delhi
"After completing our post graduation in journalism, me and my classmate applied for internship with a leading English daily in Kolkata. One day, the paper's associate editor called me. He said he had seen our Facebook profiles and would like to have us on board.
On first day of our internship, this person asked me why I appeared sleepy and if I was not happy to work with the organisation.
On other occasions, he would comment on my appearance. His remarks included, "You have such beautiful eyes, why don't you put some kajal (kohl) in them." "Why don't you dress up properly and make efforts to look better?"
"Why do you tie up your hair? You should leave it open." On the last day of the internship, he came up to me and said that he was disappointed. And it was not about work.
"I was expecting that your appearance, behaviour and personality would have been different from that of others. But you turned out to be an introvert," he said. I left the publication disheartened.
Later, I discovered that this was his usual behaviour with almost every intern. I even heard that he preferred to have female interns and that he didn't act in this manner with the employees."
(As told to Ridhima Shukla)

Legal speak: The test is whether it is making the person uncomfortable.
For example, if the boss told the intern that she was inappropriately dressed for work – there was a professional manner of doing it. If she was uncomfortable, she could have asked him to stop or spoken to the HR, says lawyer Seema Misra.

"I didn't complete my internship"
Mahima Singh, 26, IT professional, Delhi
"It happened when I was an intern in an IT firm in Delhi. It was post mid-night. The team I was part of, had to attend a video conference with an US-based client. Once it got over, my team head offered to drop me home. I agreed as I had no reason to be wary about his advances.
In the car, he tried to brush his hand against my legs on the pretext of changing gears.
He asked me if I was staying alone in the city and whether I had a boyfriend or not. When we reached my home, he asked me for a good night kiss. I was shocked. He grabbed me and kissed me. The moment I could free myself, I asked him to open the car door which he did. I ran towards my house.
On resuming office, I asked him why he had forcibly kissed me and said I could report the incident to the HR.
His response was, "You never said no. Go ahead, report it. I will tell them you were an equal party to it and that's why agreed to go with me." He also said whatever happens between two adults outside the office premises is something that they have to handle themselves. I left my fight there and never went back to complete my internship."
(As told to Zofeen Maqsood)

Legal Speak: Telling someone as well as continuous documentation of all that happened/is happening, is critical in establishing a complaint. Again, the scenario here is about unequal power with the team head using his position as a means to take sexual advantage of a junior colleague, Mahima.
In this case, the actions of the team leader could fall within the definition of prohibited conduct under the law as an unwelcome and direct physical advance, says Naina Kapur.
(The lawyers' response to the scenarios are preliminary and should not be construed as legal advice. Names of victims have been changed to protect their identities.)
Close Story