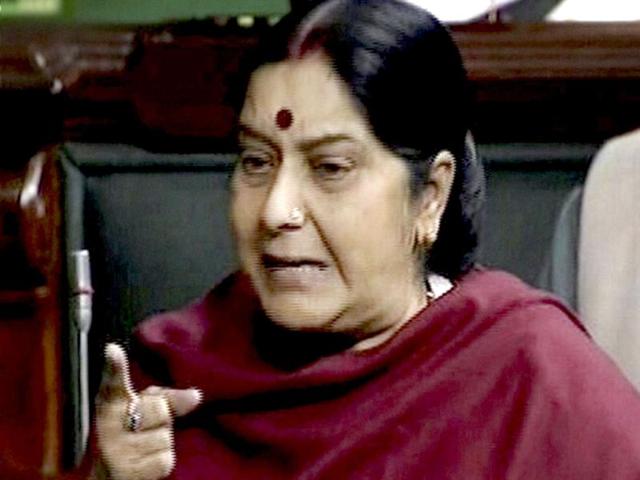 Sparks fly in BJP ahead of Lok Sabha polls
The spectre of fresh infighting a month ahead of LS polls suggests that despite overall acceptance of Modi's pre-eminence, 'unsorted' leadership issues remain, BJP insiders said.Full Coverage: Elections 2014
UPDATED ON MAR 09, 2014 11:19 AM IST
Senior BJP leaders Sushma Swaraj and Murli Manohar Joshi squared up to party president Rajnath Singh on Saturday over the issues of PM candidate Narendra Modi contesting from Varanasi and the party forming alliances with "tainted" leaders.
The spectre of fresh infighting a month ahead of Lok Sabha polls suggests that despite overall acceptance of Modi's pre-eminence, "unsorted" leadership issues remain, BJP insiders said.
Joshi, the sitting MP from Varanasi, is said to have asked Rajnath if a decision to replace him with Modi had already been taken.
"How come there has been a series of media reports claiming Modi will be fielded from Varanasi? Has any decision been taken? If not, why aren't you denying it," Joshi asked Rajnath at the party's central election committee meeting, as Modi watched. What followed was a sharp exchange of words between Joshi and Rajnath, BJP sources said.
Read:Sushma tweets against BJP-BSR alliance
Swaraj apparently remarked at one stage that when a "Modi wave" was sweeping the country, all leaders must contest from their areas. And when M Venkaiah Naidu suggested calling a parliamentary board meeting to discuss "pending issues" in Andhra Pradesh (such as an alliance with the TDP), she asked Rajnath why no meeting was held before the alliance with Ram Vilas Paswan or to approve the merger with tainted Karnataka leader B Sriramulu's BSR Congress.
"Who is taking these decisions? Even in the days when the BJP had just two MPs, such decisions were taken by the parliamentary board. The practice is not being followed," she said.
Read:Ground prepared for Modi in Varanasi, Rajnath in Lucknow

Swaraj had Thursday tweeted her objection to the entry of Sriramulu — who is close to the Reddy brothers, controversial mining barons from Bellary — into the BJP fold.
The drama continued as news channel NDTV apologised for "erroenoulsy sending out an alert" on Swaraj tweeting about the 'Modi wave'.

Read:It's 'Modi show'; no Advani, Sushma in Delhi rally
"A concocted tweet of Sushma Swaraj intended to create a controversy — unpardonable. I hope NDTV enquires who did it," the BJP's Arun Jaitley tweeted.
The BJP later announced it would boycott panel discussions on NDTV. "Tweet being manufactured by a channel in order to hurt the BJP is unprecedented. BJP, therefore, has decided to keep away from panel discussions of NDTV for present," a statement issued late in the evening said.
Swaraj left the meeting midway, triggering speculation that she'd walked out in a huff, but she later clarified on Twitter, "Going to Bhopal for important party meetings there."
Joshi, a former BJP president and Union minister, is said to be upset at growing pressure from within the party to shift to Kanpur. The cadre feel Joshi would have a better chance of winning from there (he won the Varanasi seat by 18,000 votes in 2009) and that having Modi contest from Varanasi would not only bolster the BJP's prospect in Uttar Pradesh but impact bordering constituencies in Bihar too. Joshi, however, has argued that he shouldn't be singled out for such "treatment".
Read:
Close