Will young Indians vote?
Do young voters like Modi? Will they go with Rahul Gandhi? Price rise or unemployment? More IIMs or IITs? Voter registration initiatives..but what are the odds that India's youth won't vote at all? Pretty high it seems. HT reports.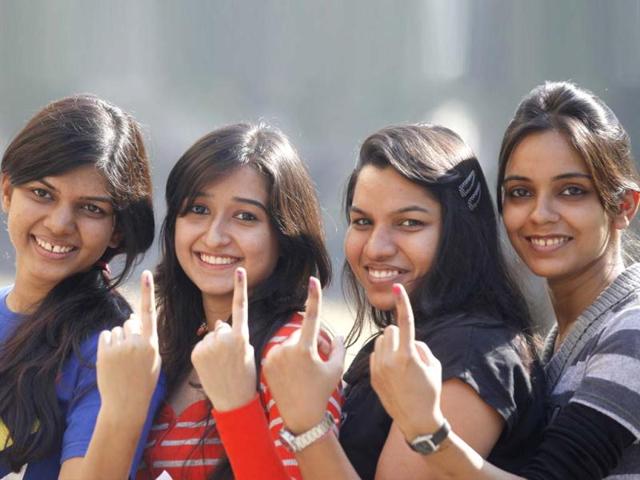 Updated on Nov 08, 2013 07:22 PM IST
Hindustan Times |
HT Correspondents
In an already youth-centric world, when recently released Census 2011 data puts the number of first-time voters in India at 149.36 million of the 725-million electorate, you cannot blame political parties for vying with each other to catch the eye of Young India.

Do they like (Narendra) Modi? Will they go with Rahul (Gandhi)? Price rise or unemployment? More IIMs or IITs? Voter registration initiatives, surveys after surveys...but what are the odds that India's youth won't vote at all? Pretty high it seems.
Traditionally, Young India has never done too well at the poll booth and the reasons offered vary from disillusionment with the political system, unwillingness to stand in queue on poll day to plain and simple indifference. But this time round, a lot of young voters from different parts of India are saying that not voting is their way of protesting against the 'system'.
Farah Yasmeen, 23, an MSc student from Chhattisgarh, hasn't even got her voter's identity card. "Elections, as I see it, are about appeasing and alluring voters the very last minute. After the politicians win they pursue their own agenda."
Taslim Shaikh, 22, a resident of Bandra, Mumbai, has applied for her voter card, but she too will not vote in the general elections next year. "I don't think any political party that comes to power will change anything for the country.
Things have gone from bad to worse each year, and today we are paying more for everything, from food to autorickshaw fares. Though there will be the 'None of the Above' option this time, I will refrain from voting as a sign of protest," said Shaikh, who teaches differently-abled children.
Debojit Thakur, 22, second year postgraduate student of history at Presidency University, has a voter card, will vote, but will go for the NOTA option. "I will obviously vote and exercise the 'None of the Above' option on the ballot machine.
And that's because Congress is steeped in corruption, the person projected by the opposition BJP as the prime ministerial candidate is a mass killer and the regional parties lack a cohesive national outlook and are busy protecting regional interests."
To step this attitude and encourage the youth to vote some non-profit youth groups, such as the Association of Muslim Professionals (AMP) in Mumbai are taking the initiative to spread awareness about the need to vote.
"We took permission from the state election commission to conduct voter registration for the youth and we have already conducted registration camps in Nagpada, Madanpura and Bhendi Bazaar this month," said AMP president 32-year-old Aamir Idrisi.
In Rajnandgaon, Chhattisgarh, an initiative — PRATIGYA — has been launched under the Systematic Voters' Education and Electoral Participation to ensure cent percent voters participation. "The critical gaps have been identified and targeted intervention planned", said Priyanka Shukla, who launched the campaign to encourage the young to vote.
As for the section that will vote, however reluctantly, their sentiments are summed by rather aptly by Avik Banerjee, a senior research fellow at the Bose Institute, Kolkata.
Says Banerjee, "The elections push me in an awkward position where I am forced to choose the lesser evil, instead of choosing between the good and bad."
(With inputs from Ejaz Kaiser in Raipur, Mugdha Variyar in Mumbai, Orin Basu and Sanchari Chatterjee in Kolkata)
Close Story
Personalise your news feed. Follow trending topics