Blackbuck poaching case: Salman appears in Jodhpur court
Khan has been accused of killing two blackbucks at Kankani village in Jodhpur in 1998.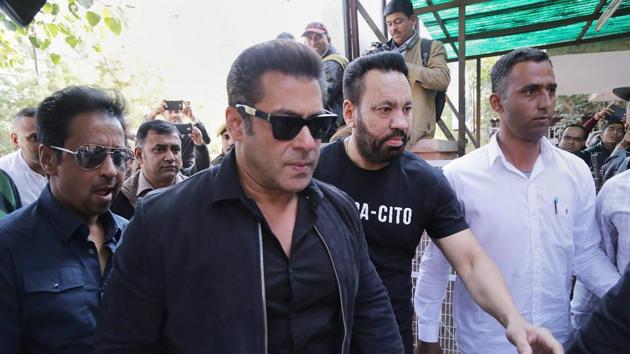 Updated on Jan 04, 2018 08:47 PM IST
Hindustan Times |
, Jodhpur
HT Correspondent
Bollywood actor Salman Khan on Thursday appeared in a Jodhpur court in connection with the blackbuck poaching case of 1998.
Khan has been accused of killing two blackbucks at Kankani village in Jodhpur in 1998.
Salman was present in the court of chief judicial magistrate (CJM), Jodhpur rural, for nearly half-an-hour, during which his counsel, Hastimal Saraswat, questioned the statements of eyewitness in the case.
The 19-year-old blackbuck poaching case against actors Salman Khan, Saif Ali Khan, Sonali Bendre, Tabu and Neelam is in the final phase of trial, as final arguments of the prosecution have been completed and the defence counsel has started his closing arguments.
Salman, whose counsel had been seeking exemption from his personal appearance for the last many hearings, suddenly reached the court with his counsel for personal appearance on Thursday. Police came to know about the actor's arrival a few minutes before, after which the security was tightened on the court premises.
"We told the court that the prosecution had recorded statements of eyewitness Poonamchand under the conspiracy. After the alleged incident of poaching, the then investigating officer recorded the statements of Poonamchand in the presence of Salman. It was also videographed, but in videography, there is a difference in the verbal statement of eyewitness and in written statements," Saraswat argued in the court.
"We have also seen videography in the court today (Thursday), in which the eyewitness Poonamchand is seen signing blank papers, which shows that Salman Khan has been falsely implicated in this case. We have also demanded action from the court in the matter of preparing false evidence against the then investigating officer," pleaded Saraswat.
Khan has been charged with killing two blackbucks at Kankani village in Jodhpur on October 1-2, 1998. The other actors and a local, Dushyant Singh, are charged with instigating Khan to poach the animals.
Three cases of poaching and one under the Arms Act was registered against Salman Khan in Jodhpur in 1998. He was shooting for Hindi film, Hum Saath Saath Hain, when these cases were reported.
The actor has been acquitted in the two chinkara poaching cases and the arms act by trial courts. The prosecution has appealed against the acquittals. The appeals in the chinkara case are in the Supreme Court now. The blackbuck poaching is the only case at the final stage of trial.
Close Story