Career gold mine for northeast students in Kota
Updated on Jul 20, 2015 04:40 PM IST
Students from insurgency-prone northeast states are not only flocking to Rajasthan's coaching destination in a big way but also setting new milestones of excellence by cracking medical and engineering entrance examinations.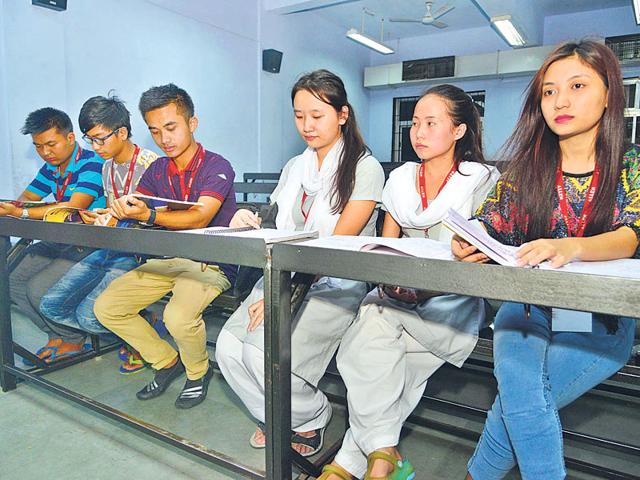 Students from insurgency-prone northeast states are not only flocking to Rajasthan's coaching destination in a big way but also setting new milestones of excellence by cracking medical and engineering entrance examinations. Gorika Bang from Assam, who took coaching for JEE from Kota this year, was the topper in the JEE Mains in the girls category.
However, this is not a surprise as there are many like her who have successfully cracked JEE and AIIMS Examination this year, said coaching institute sources. Kota, which is popular for Kota Doria sarees and often referred to as the coaching capital of the country because of the number of students it draws every year, started getting the students from northeast about four years ago. Before that the students from J&K, Srinagar, Himachal and other parts of the country majorly wrote their success stories from here. But, why Kota?
The students from northeast unanimously said a conducive education environment and unique coaching techniques were the main cause of their choosing Kota, which abounds in small and big coaching institutes. Sources said the student strength ranged from 5,000 to 60,000 every year. Around 1.25 lakh coaching students arrive every year to Kota for coaching and the state got over `100 crore revenue in the form of service tax from the city coaching centres.
One student, Thomas Leimapokpam, arrived in Kota from Imphal (Manipur) just last fortnight. He wants to crack the All India Pre-Medical Test (AIPMT) after getting coaching from a premier institute. Thomas, who has grown up in Manipur, said, "Schools and colleges remain shut due to strikes and bandhs in Manipur over the ILP issue and Armed Forces (Special Powers) Act (AFSPA) protests which created a difficult situation for the students."
And hence Kota. One Biteshwari Devi from Manipur, who is receiving coaching for AIPMT from Allen Career Institute of Kota, said such turmoil affected even those who wanted to pursue higher studies and careers and hence the career-oriented students were now coming to Kota as they knew that from here they could make it big in life. Girl student, Nuzosalu Nyekha from Kohima (Nagaland), which has been tagged 'disturbed area' by the Union government recently, too admitted to militant activities in the state impacting normal life, specially the studies, in Nagaland. "There should be a solution to insurgency and militancy problems for the aid of students and development of the state," she said.
However, she admitted that it was for the first time that she had moved out of Nagaland for studies. Another student Bankim Chandra Leimapokpam said that their cousins and friends had received coaching here and emerged successful. That was another reason why they felt inspired to join a coaching centre here, he said. ZEE topper Gorika Bang too expressed similar sentiments and thanked the faculty of the coaching institute she studied from. But, everything is not heavenly in Kota. These students face some problems too.
Problems galore
One student from Dimapur (Nagaland), Mongkumchung Jamir, studying at Allen Career Institute of Kota, said that food, temperature, communication language and distance from their homes were the biggest problems before them. Amoroni Kribve from Kohima (Nagaland) said that most of the northeast students were fond of non-vegetarian food as it was consumed more in their homeland. But, in Kota hostels, they are compelled to take vegetarian food only, which is often too spicy for them. Jamir said back home the food was less spicy.
But, here it is too spicy, he said, adding that the aim kept them going against all odds. Momocha Lonjam from Manipur said that language was yet another barrier here as they could either speak in the native language or hinglish (English mixed Hindi) since they were not conversant in Hindi. She said that temperature was another problem here. Back home they have 18 to 30 degrees Celsius temperature, but here it often crosses 45 degrees during the summers in Kota. No direct train and road route to northeast is a problem too.
The poor often have to hop between buses and trains to reach home. Another girl student Nuzosalu said that Northeast to Kota was a long journey which was why they could not make visit home frequently.
Growing trend
There has been a constant rise in the number of northeast students coming to Kota for coaching in the past three-four years. Allen Career Institute director Naveen Maheshwari said, "We had around 75 students from northeast around five years ago. But, now their number has grown to around 1000.
"He said around 150 students from the northeast achieved ranks in JEE Mains this year, while 13 students made it to the JEE Advanced and five to the AIIMS. General manager of Resonance Eduventures Private Limited Shivraj Singh said their travelling all the way to Kota only reflected their commitment to quality and high education. There had been many from his institute who successfully cracked IIT JEE this year. He said a majority of students came from Mizoram, Nagaland, Assam, Arunachal Pradesh, Meghalaya, Manipur and Tripura. The number of northeast students could now be well over 1,500.
Close Story
Personalise your news feed. Follow trending topics