Eleven langurs brutally killed, dumped near highway in Rajasthan
Updated on Jan 12, 2018 04:43 PM IST
Forest officials said the simians were presumably beaten with sticks and then splashed with an abrasive chemical by unidentified people. Outsiders are believed to be responsible for the crime.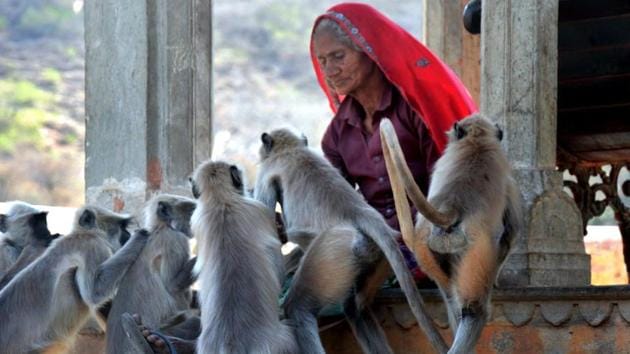 At least 11 monkeys were found killed near the National Highway-8, about 66 km from Jaipur, in Rajasthan on Wednesday. Forest officials said they were beaten with sticks and then splashed with an abrasive chemical – probably an acid – by unidentified people.
The animals were identified as langurs, a black-faced simian commonly found in the Indian subcontinent.
A video of a man beating a monkey somewhere in Rajasthan had earlier gone viral on the social media, but HT could not verify when it was shot. Hanuman Jandu, a former sarpanch of nearby Gidani village, sent a second clip depicting the burnt body of a monkey and another injured simian.
The matter came to light while some people in a pick-up truck were dumping gunny bags at Bhadara ki Dhani, a hamlet located near Gidani, at 8 am on Wednesday. "The villagers saw some monkeys scurrying away from the spot. When they checked the spot, they found the bodies of 10 langurs. Though an eleventh simian was still alive, it was badly injured. They informed the police, who called the forest department," said Jandu.
Assistant conservator of forests (Dudu) Rama Avatar Doodwal said the injured monkey did not survive the trip to the veterinary centre. "It seems like outsiders killed the simians with some acid-like chemical. The bodies have been sent for a post-mortem examination, and the report is likely to come in a day or two," he added.
Manish Saxena, wildlife activist and chairman of Wing of Research in Local Development, said killing the langur – a protected animal – was punishable under the Wildlife Protection Act-1972. "The people who carried out this gruesome act should also be booked under the Prevention to Animal Cruelty Act-1960," he added.
Dudu deputy superintendent of police Kushal Singh also shared Doodwal's view that outsiders were responsible for the killings. The Rajasthan forest department has launched a probe into the case.
Personalise your news feed. Follow trending topics