Governor gives doctor 'world record' certificate for rare hip surgery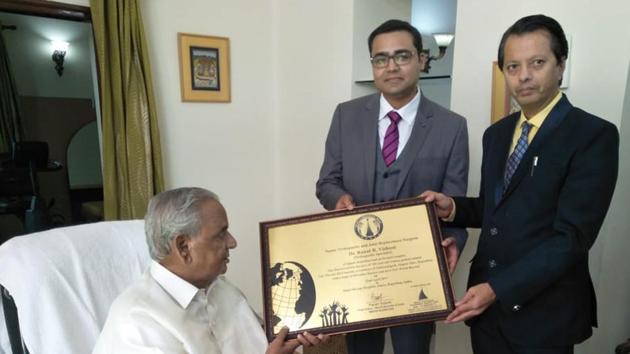 Updated on Jul 28, 2018 09:47 PM IST
Governor of Rajasthan Kalyan Singh on Saturday presented the certificate of world record from World Records India Institute to Dr Ranat Ramjas Vishnoi at Raj Bhawan. Dr Vishnoi is a senior orthopedic and joint replacement surgeon at Shably Hospital in Jaipur, who performed a rare and complex hip surgery (hip reconstruction) on a 104-year-old female.
He performed this complex surgery on April 22, 2017 on Basanti Devi of Yaswantgarh in Nagaur district. Devi, who had fallen from the bed at her house suffered multiple fractures in her hip. Surgery was very risky at this age as there was chance of excessive bleeding and other complications. Her family visited many hospitals and finally she was brought to Dr Vishnoi, who performed the surgery through modular bipolar technique.
Dr Vishnoi has been associated with orthopedic and joint replacement surgery in London for a long time where such surgeries on elderly people is very common.
Dr Vishnoi said, "This honour is not only for me but also for Rajasthan. Inspired by this, we will try to carry out such complex and rare surgeries in future." World Records India director Paavan Solanki was also present on this occasion.
Close Story