Hike in MSP of crops historic decision, says union minister
Union minister of state for agriculture Parshottam Rupala on Thursday said increasing the MSP of kharif crops by 1.5 times of their cultivation cost is a 'historic decision'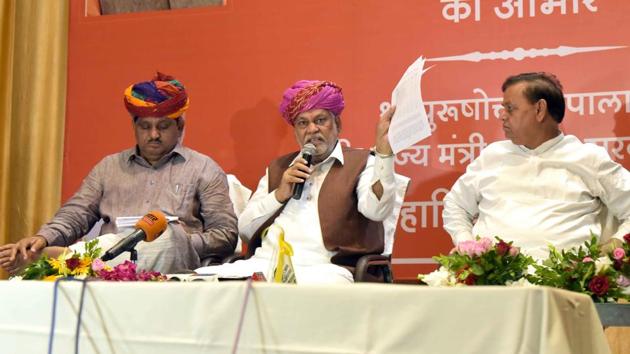 Updated on Jul 05, 2018 10:22 PM IST
Union minister of state for agriculture Parshottam Rupala on Thursday said increasing the minimum support price (MSP) of kharif crops by one and a half times of their cultivation cost is a "historic decision".
He was addressing a press meet at State Institute of Agriculture Management at Durgapura in Jaipur on Thursday.
"Till now the agriculture policy was focusing only on increasing the production and with the farmers' hard work, research and policy, the production did increase, but income of farmers' did not," Rupala said, adding that for the first time the BJP-led NDA government at the centre has taken such an important decision to increase the income of farmers.
Rupala said the BJP in the 2018-19 budget had announced to increase the MSP of crops by 1.5 times of their production cost and fulfilling the promise shows the party's commitment towards farmers.
"Cost of labour put in by animal, machine and people, rent of leased land, seeds, fertiliser, irrigation, depreciation on implements and labour of family members have been included in the production cost," he said, adding that, "Now farmers will get cost of cultivation plus 50% more for their crops."
He said the centre has also made efforts to reduce the cost of cultivation, so that farmers get more returns. "For this, soil health card was launched. By knowing the health of soil, farmers used only those fertilisers that were required, which will reduce the use of chemical fertilisers by 5-10%," he said.
The union minister said that urea was a product that always remained short and it was found that industries were using urea meant for farmers. "In last two years, there has been no shortage of urea and the reason is urea was coated with neem, which is of no use to industries," he added.
In reference to Rajasthan, Rupala said the decision to hike the MSP will prove beneficial for the state farmers, as bajra is sown on 40 lakh hectares in the state. "Cost of cultivation (of bajra) is ₹990 per quintal and MSP is ₹1,950 per quintal, due to which the return will be 96.97% more than the cost," he said.
In 2017-18, the cost of cultivation of bajra was ₹949 per quintal and MSP was ₹1,425. Thus, the return was 50.16% more than the cost.
Similarly, moong and jwar is grown on huge area in Rajasthan and MSP of both the crops has been increased to ₹6,975 and ₹2,430 per quintal respectively. "With increase in MSP, the income of farmers will also increase. Along with, their standard of living will also improve," the union minister added.
Rupala praised the innovations being made in the agriculture sector of Rajasthan. He said efforts made by chief minister Vasundhara Raje and agriculture minister Prabhu Lal Saini in growing olive, date palm, dragon fruit, drumsticks, quinoa, chia seeds and other such crops has made Rajasthan a model for other states.
In regard to problems being faced by farmers in selling their crops on MSP, Rupala said NITI Aayog is in discussion with the state governments about the problems being faced by farmers and based on the suggestions given by the state government, improvements and reforms will be made.
In his address, Saini thanked Prime Minister Narendra Modi for increasing the MSP of crops.
Jaipur Member of Parliament Ramcharan Bohra, youth board chairman Bhupendra Saini, MLA Kailash Choudhary, agriculture department additional chief secretary Neelkamal Darbari, agriculture commissioner Vikas Sitaramji Bhale and agriculture marketing department director Sube Singh Yadav were also present on the occasion.
Topics
Close Story