Improve mission parivar vikas services in 50 super blocks: Health mission director to block officials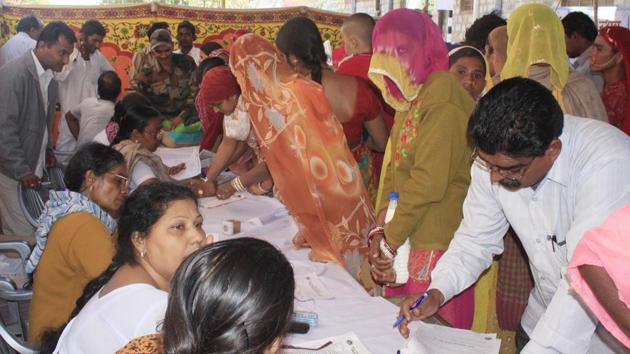 Updated on Jun 06, 2018 10:03 PM IST
The director of the national health mission has warned officials of 50 out of 96 blocks in 14 districts in Rajasthan that have a high total fertility rate, to improve services.
The blocks which were identified as "super focus blocks" due to its poor performance in family planning services when the mission parivar Vikas (MPV) was launched on December 2016 in the 14 districts for having high total fertility rate (TFR).
At a review meeting on Monday, the performance the 50 blocks was to be poor, officials said.
State health department secretary and mission director of the national health mission Naveen Jain warned officials to improve the services and performance.
The performance of family planning services in non-MPV districts has been better than MPV districts, he said.
"Fifty blocks were taken on priority and officials were directed to work on the principle of 'management by exception' in corporate style."
According to the corporate style of functioning, the management of exception is to focus on detecting and managing cases that get deviated from the norms.
"The reasons for poor performance in the districts are many, but shortage of staff, ineffective leadership and remoteness of the areas are some of the reasons," Jain said.
The 14 districts that have high TFR where the MPV was launched include Banswara, Baran, Barmer, Bharatpur, Dholpur, Dungarpur, Jaisalmer, Jalore, Karauli, Pali, Rajsamand, Sawai Madhopur, Sirohi and Udaipur.
The TFR is the average number of children expected to be born per woman during her entire span of reproductive period.
The Sample Registration System, 2013, states that India's TFR is 2.3 and has to be reduced to 2.1 in sustainable development goal. The TFR of the14 districts is 3 and above.
Achievement of sterilization, postpartum intrauterine contraception device (PPIUCD) and Antara contraceptive injection was reviewed for 2016-17 and 2017-18 and the performance was poor.
In the case of sterilization, all the 14 districts failed to achieve what they achieved during the corresponding period, Jain said.
In Pali, 11,596 cases of sterilization were carried out in 2016-17 and in 2017-18 only 9,742, which was lower by 29%, he said adding that the difference is minus 4% to 29% in these districts.
Similarly, in the case of PPIUCD, the difference has been minus 1% to 7% while comparing 2016-17 and 2017-18.
The PPIUCD is intrauterine contraceptive which is inserted within 48 hours of delivery in eligible couples.
In regard to Antara, Jain said: "Follow up of beneficiaries who were given first dose of Antara injection was not done so officials have been directed to be more serious in follow ups and inject the beneficiaries on time."
Antara has Deoxy Medroxy Progestrone Acetate (DMPA), an injectable drug that prevents pregnancy for three months.
Close Story