No takers for masters in sculpture course at Rajasthan University
Hindustan Times, Jaipur |
, Jaipur
Nikita Bishnoi
Sep 24, 2018 05:29 AM IST
There are no takers for the Master in Visual Arts (Sculpture) course in the Rajasthan University. In the last two years (2017-18 and 2018-19), not a single student has taken admission in the course
There are no takers for the Master in Visual Arts (Sculpture) course in the Rajasthan University. In the last two years (2017-18 and 2018-19), not a single student has taken admission in the course.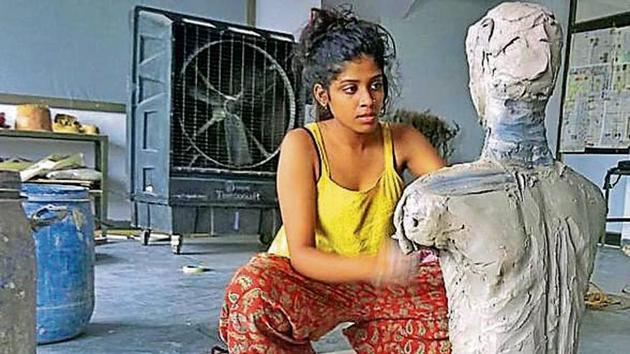 Sumit Sen, head of the department, claimed lack of awareness about arts among students and their parents as a prominent reason for the students not taking admission in the course.
Presently, the maximum number of students studying in the department are the residents of Moorti Mohalla in Jaipur. Faculty claims that due to exposure towards stone carving at an early age, the students from Moorti Mohalla tend to opt for the sculpture course.
The Bachelor of Visual Arts (Sculpture) course at the university too has poor strength. Against the 12 seats available for the course, only four admissions were reported in the present academic year, while no admission was reported in 2017-18.
TJ Kavoor, assistant professor of sculpture in the visual arts department, said that the course has failed to attract students because sculpture as a subject is thought of as a craftsmanship and not an art. "Sculpture is not only an art, but is the symbolism of a civilization. We understand the ancient civilizations such as Harappa and Mohenjo Daro by looking at their sculptures. The students from Moorti Mohalla are naturally trained craftsmen and opt for the course. However, not everybody understands that the course in sculpture is aimed at moulding a student spiritually as an artist rather than a craftsman," said Kavoor.
Sanjay Sharma, a first year BVA (Sculpture) student who is also a resident of Moorti Mohalla, said that his thoughts of enhancing the idol making family business using sculpture studies completely changed after a few days into the course. "I now understand the creative side of the sculpture making. I enjoy studying the theory and practical aspects of the subject and my focus has completely shifted towards art," said Sharma.
Kavoor said that the present students in the department do not get adequate facilities to grow and hence fail to become a role model for the students seeking admission in sculpting course after completing Class 12. Students in the department too complain about other basis facilities missing from the department. Akansha Agarwal, a fourth year student of BVA (Sculpture), said that she might not recommend students to take up a course in sculpting within the university due to lack of facilities as the university has failed to give a creative atmosphere to the students. "Sculpting as a course has numerous career opportunities in store. The department does not have adequate facilities such as a presentation lab, projector, electric supply, lightning in studios, studio assistant, library etc. How can a talented individual grow with lack of learning facilities?" she asked