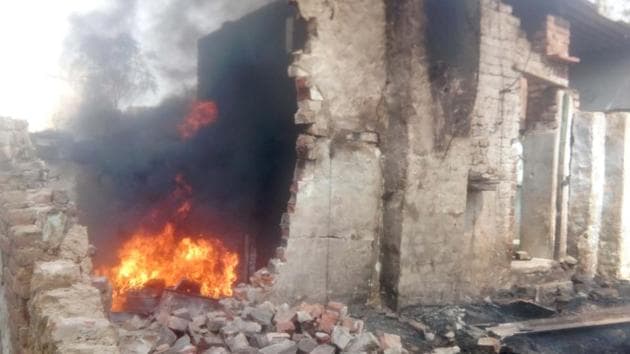 One injured in blast at illegal petrol shed in Rajasthan
PUBLISHED ON APR 19, 2018 09:47 PM IST
A teenager sustained burn injuries on Thursday in a blast at a roadside eatery that was illegally selling petrol in Bharatpur district, police said.
According to the police petrol illegally stored in a drum at a shed in the eatery near Tuhiya village caught fire, triggering the blast.
Tara Singh, 15, a worker at the eatery was injured in the incident and was admitted to a private hospital. Doctors said he sustained burns on his hands and legs. But his condition is stated to be stable.
The fire was immediately brought under control after fire brigades rushed to the spot.
Station house officer of Udhyog Nagar police station Virendra Sharma said one Natwar Singh had given the dhaba to Dharmendra Singh on rent.
Sharma said the outlet was illegally selling petrol and that an investigation was launched over the incident. No one has been arrested over the incident so far.
There are allegations about existence of several such outlets that are illegally selling petroleum products along the highways in the Mewat region.
District supply officer Beena Mahawar said district collector Narendra Kumar Gupta recently formed a team to crackdown on such illegal stores.
"We have recently visited some spots after receiving information about these illegal petrol stores. Investigation is on," Mahawar said.
He said action would be taken against stores illegally selling petrol for violating the Petroleum Act 1934 and Petroleum Rules 1937 that deal with import, transport, storage, production, refining and blending of petroleum.
Sources said diesel and petrol supply tankers, which transport the fuel from Dhaurmui oil depot, sell the petroleum products to locals at low prices during transportation. Locals buy diesel and petrol in these illegal stores, lined up along the highway from Bharatpur to Mathura, at cheaper rates for their tractors or agriculture works.
The practice is rampant in Kaman, Jurahara, Sikri, Pahari and Gopalgarh blocks of Bharatpur.
Close