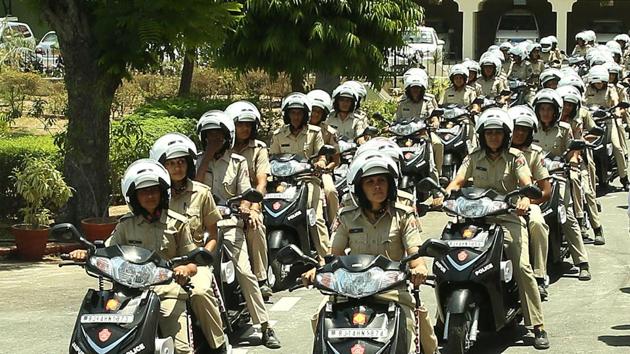 Police take to social media to spread awareness
Cops are asking people to take stand on women's safety, cyber security and fake news.
Hindustan Times, Jaipur | By Jaykishan Sharma
UPDATED ON JUL 01, 2018 10:24 PM IST
Rajasthan police have launched initiatives on social media to spread awareness on issues, such as women's safety, traffic rules, cyber security and fake news.
The police department has been sharing posts on its twitter handle on the issues, urging people to take a stand. "It is basically a people-connect programme. Every Tuesday we upload things related to women's safety like their rights, a new legislation, or any thing related to women's empowerment," ADG (crime) Pankaj Singh said.
"On Friday, we are posting awareness messages related to traffic norms and road safety. In future, we are also going to start a drive against cyber crimes and online frauds."
The department will come up with a new mascot, representing the police and ethos of the state, in 15-20 days for its awareness initiatives on social media.
On Tuesday, the department tweeted, "Drugs make you weak & your future bleak! On this #WorldDrugDay take a pledge to #SayNoToDrugs & #StopDrugAbuse! Remember~Using illegal substances is a criminal offence & you can be penalised."
On Wednesday, the department's official handle tweeted, "Sexual misconduct is often in disguise of 'Just Kidding'. Trust your instincts & if you think you are facing #SexualHarassment at workplace then speak up as not every sorry deserves 'It's okay' in return."
Welcoming the initiative, Dr Mridul Bhasin of Muskan Foundation that works on road safety said, "Social media is a popular medium. We welcome this move and I feel through this medium the Rajasthan police will be able to reach out the most vulnerable section of the youth."
Human rights activist Rakesh Sharma said, "It's a good initiative that police department has started online awareness programmes, but they should emphasise more on enforcement of the law. For example, everybody knows from where one can get liquor in state after 8 pm, but still, no strict action is taken against them."
The department is also using social media to pay homage to the martyrs of the police. A calendar has been created to pay tributes to martyrs on the day of their martyrdom. On Saturday, homage was paid to constables Ratan Ram and Chandra Bhan, and ASIs Shankar Lal and Mohan Lal.
According to police sources, the department will come up with an initiative, Traffic Samaritan, through which people will keep a check on those violating traffic rules. Some people will be assigned the task of uploading pictures of those violating traffic rules.
Campaign against fake news
Police have launched a campaign on social media to counter fake news. The campaign, with a hashtag #fake news, educates people about spread of such news and how it can be spotted.
"The flow of fake news on social media is increasing day by day and to create awareness among people, we have launched this initiative," said Pankaj Singh.
In a tweet on June 25, police announced that they will be starting a series on #fakeNews, and urged people to be aware of "news, stories or hoaxes which mislead you into believing the facts which are not correct and that often social media become easy carriers for spreading falsehood & distortion."
Many follow-up tweets talked about how fake news is leading to violence and even deaths in some cases. "Rumours spread like wildfire on #SocialMedia. Fake @WhatsApp message are becoming fatal. One fake forward about #ChildTrafficking claimed 24 lives last year," police tweeted.
The police also shared a post under its 'exposing fake news series' and coincidentally it was a false government notification that was shared by a Rajasthan cadre IAS officer.
"We should appreciate the initiative of police department against fake news. A lot of bad things like lynching take place due to rumors and misinformation created by some vested interest groups," said Narayan Bareth, former professor at the mass communication department of Rajasthan University. "Intellectuals, theatre artistes and fine artists should join this initiative to create awareness among people."
The initiative was taken up after a fake news item circulated in the name of the police on social media platforms. The news was a notice requesting residents to be wary of medical students offering free blood tests because they belong to some terrorist groups. The police later clarified that no such notice was issued by them.
Close