Rajasthan floods: Hundreds of families displaced, relief still elusive
Hindustan Times |
, Barmer
Mukesh Mathrani
Aug 03, 2017 08:17 PM IST
Gudamalani and Dhorimanna blocks are the worst affected after rain damaged a Narmada canal on July 21 and gushing water submerged dozens of villages.
Thousands of flood victims wait for relief in Barmer district though rain has stopped and officials claim that they have rescued the stranded people and relocated them to safer zones.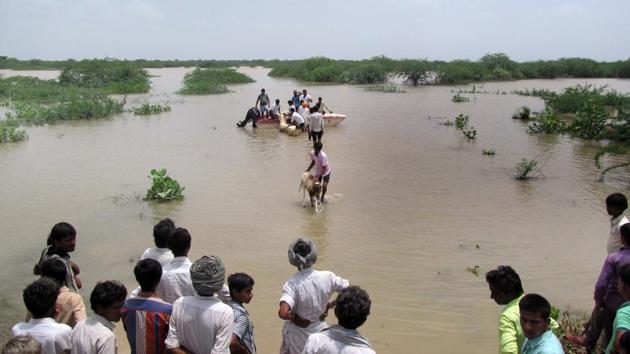 Gudamalani and Dhorimanna blocks are the worst affected after rain damaged a Narmada canal on July 21 and gushing water submerged dozens of villages.
"Hundreds of families were displaced; for the past 10 days, we are taking shelter on high sand dunes," said Bagda Ram of Pratap Nagar in Dhorimanna block
"Authorities provided us kits containing floor, rice, grain, sugar and tea only for once. Kits are useless since we have no facility to cook food. We are managing with food packets provided by social organisations," Ram said.
"It seems the focus of the authorities was only to evacuate the stranded people. No system is in place to cater to the basic needs of those relocated to safe locations," said Navin Narayan, project officer of Action Aid.
"It looks like the authorities do not understand the difference between rescue and relief," said Narayan who visited Gudamalani and Dhorimanna on Thursday.
Gudamalani, about 90km from the district headquarters, is nearer to Gujarat flood-hit areas. Sukari and Jawai rivers merge here into Luni that flows through Dhanera, Patan, and Banaskantha districts of Gujarat. The road from Gudamalani towards Jalore is submerged.
The marooned people are living without shelter, food and safe drinking water. At many places, victims are staying under the sky on high sand dunes, organisations said.
After evacuating flood-hit people, Rajasthan Armed Constabulary (RAC) personnel are rescuing sheep and goats of Rabari community with the help of boats.
In Gudamalani, 300 households are affected in Lumbawas gram panchayat, 500 in Sindhasava, 200 in Padradi, 1200 in Bhakharpura, 1000 in Kharva and 40 in Hajriyon ki Dhani.
About 150 evacuated people, including over 40 women and 20 children, are taking shelter in Gudamalani's Krishi Mandi Upaj for the last 5 days.
Victims live in sheds where food grains are kept. They were given green curtains for use as beds. No bedding or blankets have been given; they have no toilet facilities. Food is provided by a religious group.
Ariniyali, Pratap Nagar, Aaleti, Purava, Rampura, Meghwalon ki Basti, Manki, Chainpura and Andadiyon ki Dhani are the worst-affected areas in Dhorimanna block, about 70km from the district headquarters. Around 2300 households have been affected.
Floods have spelled health hazards with breeding of mosquitoes. Barmer district collector Shivprasad Nakate said, "After the rain stopped, chances of epidemic spread are high. We have started taking preventive measures."
Several teams comprising medical staff, veterinarians, and revenue and agricultural officials have been formed, he said.
"We have opened control rooms at Dhorimanna and Gudamalani. Teams will move towards the affected areas with NDRF personnel to provide medical facilities to people and livestock. Revenue and agricultural officials will conduct surveys, so that affected people will get timely relief," the collector said.
"We have also arranged drone cameras to ensure that no one remains stuck in the flood-affected areas."