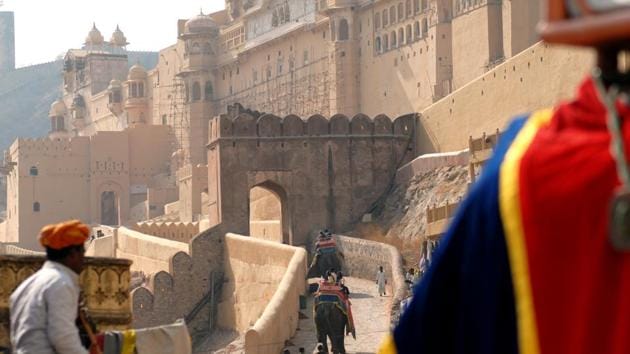 Rajasthan government to hand over upkeep of Amer, Nahargarh forts to private companies
The plan is to develop both the forts on public-private partnership model.
UPDATED ON MAY 02, 2018 09:44 PM IST
The Rajasthan government is contemplating to hand over development of the state's two historical monuments to private companies even as the Union tourism ministry's move to allow the Dalmia Bharat Ltd to "adopt" the Red Fort sparked controversy.
The plan is to develop the Amer Fort and Nahargarh Fort on PPP (public-private partnership) model but finer details are yet to be worked out, a state government official said on condition of anonymity.
"The move aims at generating greater tourist interest in the monuments," he said.
Apart from the two forts, the state's BJP government has also shortlisted 10 other historical monuments under the "Adopt a Heritage" scheme. But the upkeep of the two forts will be first handed over to the private entities, the official said.
Located on a hill in Amber, about 11 km from Jaipur, the 16th century Amer Fort is one of the major tourist attractions of Rajasthan.
The fort, which is constructed of red sandstone and marble, has large ramparts and series of gates and cobbled paths.
Nahargarh Fort, located on the outskirts of Jaipur, was built in 1734 by Maharaja Sawai Jai Singh II, the founder of Jaipur. The fort was constructed as a place of retreat on the summit of the ridge above the city. Walls of the monument extended over the surrounding hills, forming fortifications that connected this fort to Jaigarh.
The state government's move, however, drew sharp criticism from former officials of department of archaeology.
Former deputy director of the department Jodharam Baber said the two monuments were already developed and that the move to hand over the two forts to private companies aimed at only earning profit.
The state government does not see any merit in the criticism.
State panchayati raj minister Rajendra Rathore said that the move was to ensure that the rich history and culture of Rajasthan was not erased.
"I see nothing wrong in the move to develop historical monuments on PPP model," he said.
The Rajasthan government's move comes close on the heels of tourism ministry signing an MoU with the Dalmia Bharat Limited under central government's 'Adopt a Heritage' project for the maintenance of the Red Fort and building basic infrastructure around it.
The opposition parties and several historians criticised the move.
Close