RSS up in arms over drive to raze temples on metro route
The Rashtriya Swayamsevak Sangh (RSS) has finally woken up to the Vasundhara Raje government's drive to raze temples, among other structures, to make way for Jaipur metro.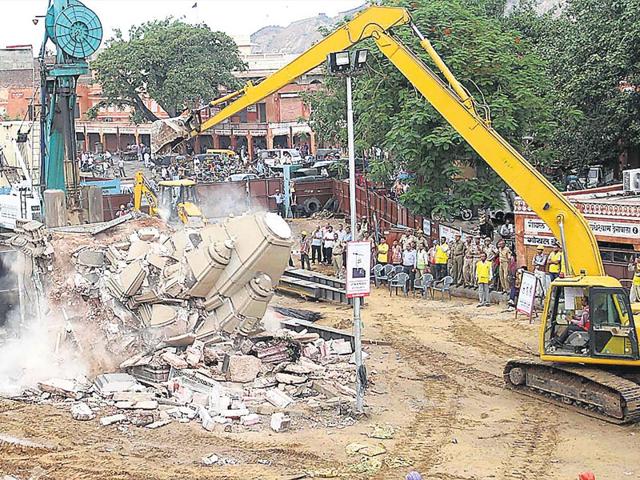 Updated on Jul 07, 2015 12:49 PM IST
The Rashtriya Swayamsevak Sangh (RSS) has finally woken up to the Vasundhara Raje government's drive to raze temples, among other structures, to make way for Jaipur metro.
The RSS has formed a "Mandir Bachao Sangharsh Samiti" and called a two-hour chakka jam (traffic blockade) on Thursday from 9 am to 11 am to raise the issue.
The right-wing Hindu organisation is irked over the demolition of more than 80 temples in the city in the last one year. The razing of a 250-year-old Rojgareshwar Mahadev temple at Chhoti Chaupar and six other ancient temples last month acted as a major trigger for the outfit to take a firm stand on the matter.
On Saturday, the RSS summoned the city BJP MLAs, MP Ramcharan Bohra and three ministers including urban development and housing minister Rajpal Singh Shekhawat at its headquarters to seek an explanation on demolition of temples.
Two days later, senior RSS functionary and BJP's national joint secretary (organisation) V Satish met Raje and state party president Ashok Parnami on Monday. According to sources, the RSS' protest was discussed in the meeting.
The protest, said samiti president Badri Narayan Chaudhary, would be intensified if the administration did not wake up to the problem even after chakka jam.
"We are for development but indiscriminate demolition of temples is uncalled for. We have asked the government functionaries to explain on whose orders temples were demolished," Suresh Upadhayay, a member of the committee conducting study on demolished temples, told HT.
Upadhayay said that due to construction of metro rail the floor and walls of ancient Shri Naval Kishore temple had developed several cracks. Besides, the verandah and walls of ancient shops in the walled city had also suffered damage.
"Metro work is being carried out underground; as such there was no need of demolishing the temples. The idols of deities in the temples were not removed as per vedic process," he said, adding that notices had been served to demolish 14 more temples.
Earlier, following the 2009 order of Supreme Court, over 70 temples were razed and removed, mostly in the walled city, which were considered encroachments on the roads. The court had ordered removal of illegal and encroached religious structures to clear and widen the roads.
"The officials concerned have been directed to file a factual report over the demolition of temples. They have been asked to clarify whether there was need to remove the temples," said UDH minister Shekhawat.
Jaipur metro CMD Nihal Chand Goyal said six temples had to be relocated from Chhoti Chaupar to build a station using cut-and-cover method. He said majority of temples would not be "disturbed" on the metro route.
Congress leader Suresh Mishra said the RSS and the BJP were shedding crocodile tears after a priest recently suggested Raje that she was mired in controversies (over links with Lalit Modi) because a large number of temples had been demolished under her rule.

Past temple trouble
The RSS was irked after reports of a proposed temple dedicated to Raje way back in 2008.
A BJP worker-turned-priest Hemant Bohra had in 2008 planned to build a temple and deify Raje as goddess Kalyani at Keru village, 10 km from Jodhpur.
Thought the proposed temple is yet to see the light of day, but Bohra had already launched a chalisa (religious chant) and a poster deifying Raje as goddess Annapurna.
The issue had reportedly not gone down well with the Sangh cadres.
Close Story
Personalise your news feed. Follow trending topics