Why Rajputs in Rajasthan have erupted in anger over gangster Anandpal's encounter killing
Updated on Jul 13, 2017 10:18 AM IST
Rajput bodies across the state have blocked roads, vandalised public property and demonstrated against police to press for an inquiry into what they allege was a staged encounter to kill Anandpal Singh.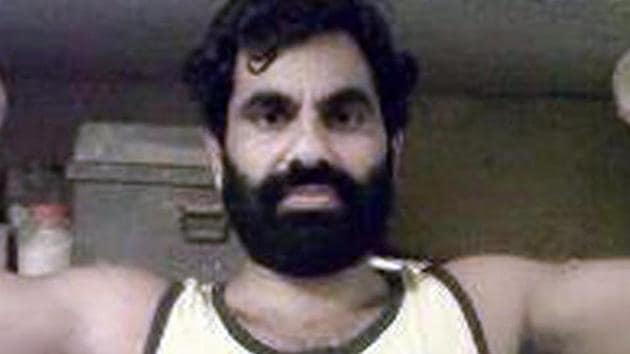 When Anandpal Singh was gunned down in a controversial police encounter last month in northern Rajasthan's Churu, he was a dreaded gangster with six murder charges and little social traction.
But in a month, the 45-year-old has been transformed into an icon who has galvanised the influential Rajput community, generated a snowballing demand for a CBI probe into his death and potential embarrassment for the ruling BJP.
Rajput bodies across the state have blocked roads, vandalised public property and demonstrated against police to press for an inquiry into what they allege was a staged encounter. The body is lying in his native Sanvrad village, as his family has refused to cremate him without a CBI probe. On Monday, around 2,000 Rajputs reached the village.
Community bodies such as Shree Rajput Sabha, Rajput Karni Sena and Pratap Foundation have joined the protests. At a gathering outside Rajput Sabha Bhavan in Jaipur on Sunday, nearly 30 men courted arrest shouting 'Long live Anandpal'. Hundreds of college students changed their profile photos on Facebook and wrote "Long Live Anandpal".
But how did a notorious criminal become the focal point of such demonstrations? The answer lies in Rajput's fraught history with Jats, the other big community in Rajasthan, and Anandpal's own meteoric rise from a relatively backward background.
Anandpal was a Ravana Rajput, a community born from the concubines of Rajputs and regarded as inferior by the Rajputs, especially for matrimony.
Anandpal made a powerful point by riding a horse to his wedding – a symbol of Rajput pride that is off-limits for lower castes.
In Jail, Anandpal became a power icon because of his rugged appearance, his glamorous life– photographs of him in gym and showing off his toned muscles often found its way to social media platforms.
The Rajputs also saw in him an answer to the Jat gangsters whose reign Anandpal ended. Jats resent Rajputs for the latter's historical domination in a region where the Jats are the numerical majority.
His death also sparked a rush to appropriate his legacy with Rajput bodies, who had earlier kept a distance from Anandpal, coming out in solidarity.
Rajiv Gupta, retired professor of sociology from University of Rajasthan, has a better way to put it. "When power disintegrates, there arises an opportunity for others to consolidate that power. What we see now is the same phenomenon, the same question arising as to who or what will replace that power centre," said Gupta.
Furthermore, Anandpals' image echoed the aggression shown recently by Rajput bodies such as the Rajput Karni Sena, members of which disrupted the shooting of film Padmavati and slapped director Sanjay Leela Bhansali, claiming the movie insulted Rajputs.
The unrest might have political fallout too. With Rajput leaders questioning the silence of 28 Rajput MLAs and publicly threatening to give a befitting response to the ruling BJP in the next assembly election, the party's prospects might take a blow. Rajputs have been traditionally BJP loyalists and constitute 8-10% of the voters in the state.
In addition, the growing demand for CBI probe into the encounter - the latest to voice support for it being ex-chief minister Ashok Gehlot - has upped the pressure on government.
If the Anandpal case goes to the CBI and lapses emerge, it will be a major embarrassment for chief minister Vasundhara Raje.
There have been two police encounters in the state in recent past: Dara Singh, a Jat, killed in 2006; and Chatur Singh, a Rajput, killed in 2016 – both during BJP rule.
Rajendra Rathore, the Rajput leader who is BJP MLA from Churu and a senior cabinet minister, went behind bars for a few days for his alleged role in the encounter of Dara Singh, a Jat bootlegger in the Shekhawati region, in 2006.
Rajasthan police also faced Rajput anger for Chatur Singh's death.
In addition, Rajasthan home minister Gulab Chand Kataria and police were under the scanner for the killing of Sohrabuddin Sheikh in Gujarat in 2005. MN Dinesh, the police officer who led the team that killed Anandpal, was in jail for seven years in the Sohrabuddin case.
But not everyone is convinced by the protests. In a recorded conversation circulating on social media, a prominent Rajput politician is heard asking why the community was backing a man who killed Rajputs, too. As a criminal, he spared none, the leader says in the audio. "Why did the community not stand with widows of three Rajput men Anandpal killed?" he questioned.
Personalise your news feed. Follow trending topics