Ram Navami communal clashes: Want peace, if you strike back I'll leave, says Asansol imam who lost son
Hindustan Times, Kolkata/Midnapore |
HT Correspondents
Mar 30, 2018 11:59 PM IST
Maulana Imdadul Rashidi's son was found dead after the violence that followed Ram Navami celebrations in the West Bengal town.
The imam of a mosque in West Bengal's Asansol town has appealed for peace and restraint hours after his 16-year-old son was found dead following the violence that started in the industrial town and other areas in the state after the Ram Navami celebrations last Sunday.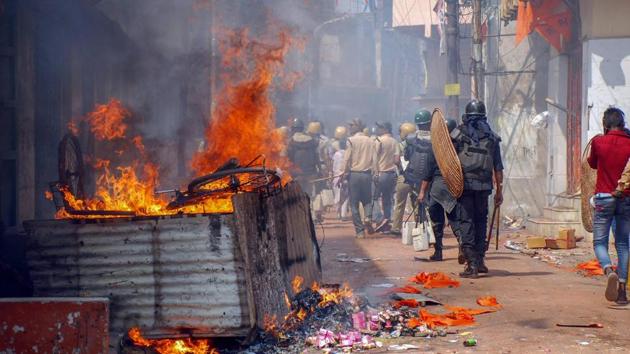 The body of Maulana Imdadul Rashidi's son, Sibtulla Rashidi, was found on Wednesday after he went missing following a clash on Tuesday in Asansol's Railpar area.
Sibtulla was the younger of the two sons of Rashidi, who has been performing the duties of the imam at Noorani Mosque for about 30 years.
"Our first duty is to restore normalcy. A body was found. A case was registered," Asansol Durgapur Police commissioner LN Meena said.
Read: Amit Shah sets up 4-member BJP panel to look into Bengal violence, submit report
Rashidi made an impassioned plea to the people gathered at the Idgah Maidan where his son was buried on Thursday.
"My son has died, but I don't want anyone else to lose his child. If you strike back, I shall leave this town," the imam told the crowd.
"I only want peace to return here. I have made the same request to the people who gathered on Thursday," he repeated his request on Friday.
Local officials and senior leaders of the ruling Trinamool Congress said Rashidi's comments will help the administration in restoring peace and normalcy in the area but questioned the circumstances surrounding his son's death.
"It is not yet clear to the administration whether the son of the imam was killed or he died due to some other reason. But we do recognise his exemplary gesture in maintaining peace in the region," Tapas Banerjee, Trinamool Congress MLA of Asansol South, said on Friday morning.
Read: Eye on 2019 Lok Sabha elections, Mamata draws up itinerary to meet regional leaders
"If he could utter those words in such a state of shock, disobeying him would amount to dishonouring him," Prabal Roy Chowdhury, the sub-divisional officer of Asansol, said.
Former Trinamool Congress Lok Sabha MP Kabir Suman lauded the cleric and said chief minister Mamata Banerjee should not only organise a public function to honour him, but also recommend the Bharat Ratna for him.
"Mamata Banerjee, why aren't you saying it out loud that Bharat Ratna should be bestowed on this imam… We should all go and touch his feet," Suman said in his Facebook post.
The Vishwa Hindu Praishad (VHP) blamed the police and administration for failing to ensure peace during and after the processions.
VHP organising secretary of Bengal, Bihar, Odisha and Andaman, Sachindra Narayan Sinha claimed it was a VHP-organised Ram Navami rally that was attacked first in Asansol on March 27 when it was passing through a Muslim-dominated area close to the railway station.
"This led to sporadic violence in other parts of Asansol. We have nothing to do with the death of the imam's son but would like to point out that police silently watched while our men were being attacked. And, this happened barely a day after a man was killed in Raniganj which is barely 20 kilometers away," Sinha said.
Read: Bengal Ram Navami violence: Babul Supriyo prevented from entering Asansol, FIR filed
Sinha admitted that men who took part in the rally were armed with swords and sticks. "They came from an akhada where this is a decade-old practice. On March 22, chief minister Mamata Banerjee had herself said that organisations doing so for years were allowed to display traditional weapons. However, despite repeated appeals, police did not provide adequate security for our rallies. They couldn't even protect their own deputy commissioner who was severely injured in a bomb blast," the VHP leader said.
The industrial towns of Raniganj and Asansol hit the headlines after clashes between Hindus and Muslims erupted in West Bengal since Ram Navami celebrations on March 25.
A man was killed and several injured after Ram Navami procession allegedly tried to enter a Muslim-dominated locality in Raniganj on March 25. Three others also lost their lives in related incidents across North 24 Parganas and Purulia districts around that time.
The Mamata Banerjee government rushed three senior Indian Police Service officers to Raniganj and Asansol – they are located 20km apart – to tackle the situation.
There have been no further incidents of violence over the past two days as the state government ensured heavy police presence in the affected areas and suspended internet services.