Delhi, Madhya Pradesh, Gujarat, Maharashtra, Odisha, Andhra Pradesh, Karnataka, and Bihar have reported communal clashes, with the police having arrested some of the accused.


Published on Apr 20, 2022 07:29 PM IST
The officials claimed at least two of the arrested people run scrap shops, and had stocked up on glass bottles, which were used as projectiles, while a third is a scrap dealer.


Updated on Apr 20, 2022 03:08 PM IST
Zeenat Khan, the 33-year-old tuition teacher who takes classes at her mother's home, says none of her students stopped coming to her despite clashes between the two communities on Saturday evening.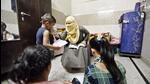 Updated on Apr 20, 2022 04:45 AM IST
Several people were left injured in Khargone and another district - Barwani - as violence broke out during Ram Navami processions in the state.


Published on Apr 19, 2022 10:15 AM IST
Delhi BJP leaders have claimed links between Jahangirpuri violence accused Md Ansar and the ruling AAP, saying police should probe why 'masterminds' of the incident were "found associated with a particular party".


Published on Apr 18, 2022 08:37 PM IST