Bengal rural polls: Trinamool sets record winning 27% seats uncontested
The Opposition says a 'conspiracy' and strong arm tactics are behind the Trinamool Congress' formidable record of victories.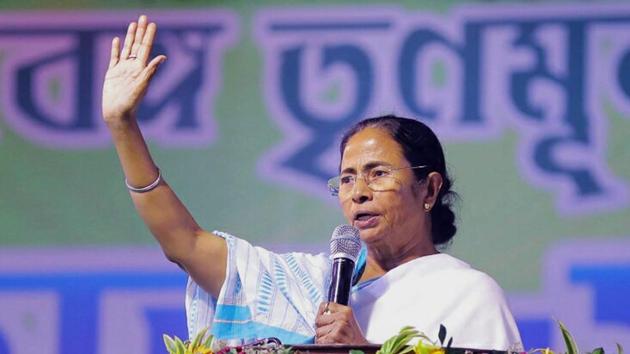 Updated on Apr 30, 2018 02:32 PM IST
With 27% of the total seats in the Bengal panchayat elections won without any contest, the Trinamool Congress has set an all-time time record, beating the Left Front which won 11% of the total seats uncontested in 2003.
But the opposition has slammed the Trinamool's record, reiterating yet again that the ruling party used violence to prevent their candidates from filing nominations.
The three-tier panchayat polls for Zilla Parishad (ZP), Panchayat Samity (PS) and Gram Panchyat (GP) started in West Bengal in 1978, a year after the Jyoti Basu-led Left Front government came to power.
This year, the single-phase poll is scheduled on May 14 and the counting will be on May 17. The polling was earlier scheduled to be held in three phases.
The scrutiny which ended on Saturday, revealed that the Trinamool Congress won 2,069 of 9,217 of Panchayat Samity seats without any contest while the party won 11,520 of 48,650 Gram Panchayat seats uncontested.
The Trinamool Congress also set another record of uncontested victories in Zilla Parishads, the highest body in the three-tier panchayat system. The ruling party won 130 out of 169 ZP seats in four districts of Birbhum, Murshidabad, Bankura and East Burdwan without any contest. Never before was a single ZP in Bengal was won uncontested, according to the State Election Commission (SEC) records.
In Birbhum, Trinamool won all the 42 ZP seats without any contest. In Murshidabad district, Trinamool has won 48 out of 70 ZP seats uncontested already, thus ensuring control of the ZP even before the polling day.
Similarly in Bankura district, Trinamool bagged 31 out of 46 ZP seats. In the newly formed East Burdwan district, Trinamool bagged nine out of 11 ZP seats uncontested.
But the ruling party's formidable record even before polling has drawn flak from the opposition.
CPI (M) central committee member, Rabin Deb said these results prove to what extent the polling process has been undermined by the 'joint conspiracy of Trinamool, police and SEC'.
"In the past there had been instances of PS or GP seats won uncontested. But it had never happened in case of Zilla Parishad. There is a total authoritarian regime in West Bengal," Deb said.
However, Trinamoool's Birbhum district president, Anubrata Mondal said that these are lame excuses of the opposition who were unable to get people to contest for them. "What can we do if they do not get candidates? Had they got candidates, I personally would have arranged for their nomination," Mondal said.
Congress legislator from Murshidabad district, Manoj Chakraborty said such uncontested results are unbelievable in case of Murshidabad, which traditionally had been a Congress stronghold. "Since the beginning our candidates were intimidated and not allowed to field candidates," he said.
BJP's state president in Bengal, Dilip Ghosh claimed that since Trinamool has got isolated from the people they are resorting to such violence to win uncontested. "However, we are confident of giving a tough fight to the ruling party in the seats we are contesting," Ghosh said.
On April 20, the Calcutta High Court had directed the state election commission to issue fresh extension of filing of nomination for panchayat polls. The state poll panel then extended the last date for filing of nominations to April 23.
Close Story