Bengal polls: Oppn parties file fewer nominations, blame 'TMC intimidation'
While BJP filed nominations from 57% seats, Left and Congress managed just 40% and 15% respectively.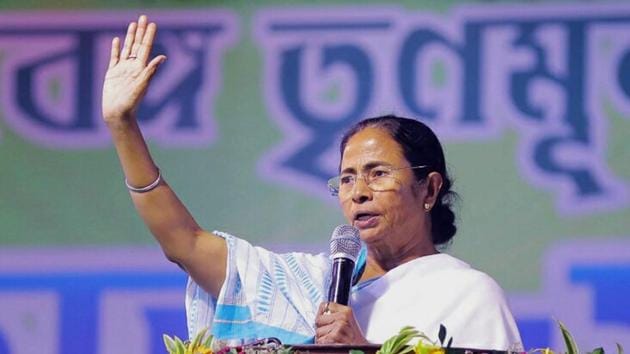 Updated on Apr 26, 2018 08:20 PM IST
The BJP succeeded in fielding candidates from just 57% of West Bengal's gram panchayat seats, allegedly due to attempts by the ruling Trinamool Congress to prevent opposition parties from filing nominations in the upcoming rural body polls.
While Left Front candidates filed nominations from 40% of the seats, the Congress remained a distant third at 15%.
The ruling Trinamool Congress, by contrast, fielded 58,978 candidates from 48,650 seats across the state. There is nothing untoward about this, considering that more than one candidate from a party are allowed to file nominations from one seat. The party eventually gives its symbol to just one candidate, forcing the others to either withdraw or contest as independents.
Bengal has 48,650 seats in 3,354 gram panchayats, 9,217 seats in 341 panchayat samitis, and 825 seats in 20 zilla parishads.
The opposition parties performed best at the zilla parishad level, with the BJP filing nominations from 782 (95%) seats, Left Front from 640 (77%) seats and Congress from 407 (49%) seats. At the intermediate panchayat samiti level, the figures are 67% for the BJP, 54% for the Left Front and 19% for the Congress.
These figures seem to support the opposition's allegations that filing nominations in gram panchayats was difficult because it had to be done at block development offices situated in remote areas, where the writ of Trinamool supporters runs virtually unchallenged. Nominations for zilla parishad seats could be submitted at the district headquarters, which enjoy a relatively larger presence of policemen and mediapersons.
"These figures prove that the nomination exercise was a farce. We fear that the situation will get even worse during polling," said BJP national secretary Rahul Sinha. The saffron party fared better than the Left Front or Congress because people preferred it as an alternative to the Trinamool Congress, he added.
Sujan Chakraborty, leader of the Left parties in the state assembly, also accused the Trinamool Congress of intimidating opposition candidates. "The figures speak for themselves. Left candidates have been prevented from filing nominations by both the Trinamool Congress and the BJP," he said.
The ruling party, however, trashed the accusations. "How are we responsible if the opposition parties are unable to find candidates to fight for them?" asked party general secretary Partha Chatterjee.
Nominations for the polls were filed on eight days between April 2 and 9, besides April 23. No nominations were filed on April 8 as it was a Sunday. The nominations were later scrutinised on April 25.
Around 5.08 crore voters are supposed to turn up at 58,467 polling stations in 20 districts of the state during the elections, which will be held on May 14.
Close Story