Bengal cops sanitise Jharkhand border ahead of panchayat polls, clashes continue
Police launched the sanitising operations following information that antisocial elements from neighbouring Jharkhand were entering Bengal to create problems during the panchayat elections.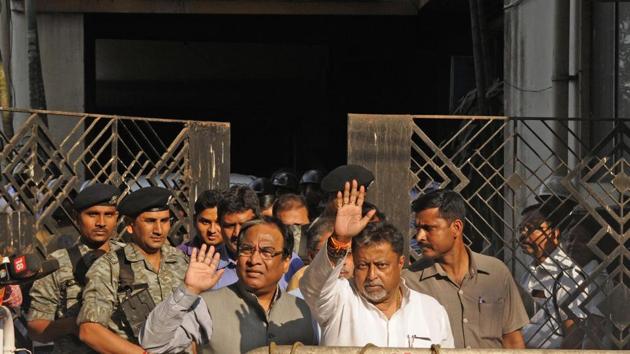 Updated on Apr 10, 2018 03:10 PM IST
The Bengal police on Sunday launched a massive operation to sanitise the Bengal-Jharkhand border in Birbhum district which has been rocked by violence ahead of next month's panchayat elections.
Clashes which have continued unabated for the entire period of filing of nominations showed no signs of ending with violence reported even on Sunday although no nomination was filed. The nomination window closes on Monday.
Police launched the sanitising operations following information that antisocial elements from neighbouring Jharkhand were entering Bengal to create problems during the polls. Every vehicle at the border of the two states in the district is being checked by a huge police contingent under the leadership of senior police officers.
"We want to ensure that no one with arms can enter the district before the polls and this checking will continue," said Birbhum district police superintendent, Neelkanth Sudhir Kumar.
On Saturday, after clashes at Mohammad Bazar of Birbhum district on Saturday, additional director general (law & order), Anuj Sharma said that the police have spotted miscreants coming from Jhargram entering through Dumka border and holding rallies on behalf of a particular political party. Although he did not name any party, he showed a video footage where some people were seen rallying holding saffron flags. Twenty people have been arrested so far in connection with the Mohammad Bazar clashes.
But despite the heavy police presence, violence continued in Birbhum.
On Sunday morning a housewife at Mallarpur in Birbhum district was severely injured, after crude bombs hidden in a country oven (tandoor) blasted as she went to ignite it. The blast blew up the left hand of Rubina Bibi. Her eight year old son was also severely injured. Both have been admitted to a local hospital and police is probing to find out who was responsible for hiding the crude bombs in the oven.
At Keshiari in West Midnapore district, a local Trinamool Congress leader was beaten up allegedly by BJP activists on Sunday morning. The BJP leadership, however, has denied their involvement with the incident.
The clashes weren't only between rival parties. At Jangipara in Hooghly district, two factions of Trinamool clashed. A Trinamool office was ransacked and gutted and the party's gram panchayat candidate, Sheikh Nazimuddin's car was smashed. He alleged that the attack was masterminded by Jangipara panchayat samity president, Sheikh Moinuddin. Police seized some crude bombs from the area.
In Kolkata, a group of intellectuals and civil society members took out a peace rally to protest the recent trend of communal violence rocking the state. Veteran poet, Shanka Ghosh, theatre personality Rudaprasad Sengupta and film director, Tarun Majumdar participated in the rally. Some leading Left Front leaders including Left Front chairman and CPI(M) politburo member, Biman Bose also joined the rally without carrying party flag.
Bengal BJP president Dilip Ghosh ridiculed the participants calling them "irrelevant intellectuals". "These intellectuals are biased and hence we are not giving any importance to the rally," Ghosh said.
The Opposition has accused the ruling Trinamool Congress of using strong arm tactics to stop rival candidate from filing their nominations.
Close Story
Personalise your news feed. Follow trending topics