Case against Bengal BJP chief Dilip Ghosh for wielding bow and arrow at Ram Navami rally
The case was filed against Ghosh comes after chief minister Mamata Banerjee directed the police to take strong action against anyone found brandishing weapons at religious rallies.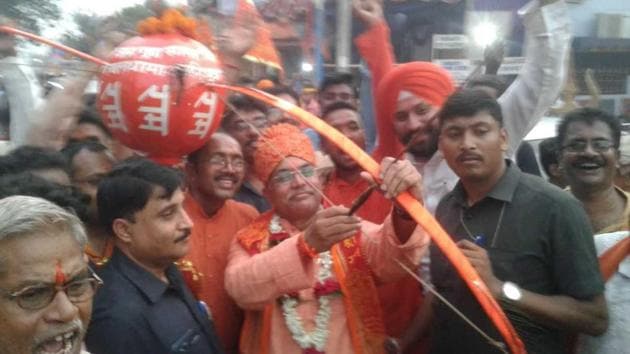 Updated on Mar 26, 2018 11:48 PM IST
Hindustan Times, Midnapore/Kolkata |
HT Correspondents
West Bengal police filed on Monday a case under the arms act against state BJP chief Dilip Ghosh for allegedly brandishing weapons at a Ram Navami rally the day before in Kharagpur, which he represents in the assembly.
The suo motu non-bailable case was registered against Ghosh for breaching the arms act and holding rallies without the administration's permission, Kharagpur's additional superintendent of police Y Raghubangshi said.
According to police, the BJP's West Bengal Mahila Morcha president Locket Chatterjee faces a similar case for allegedly participating in an armed Ram Navami procession in Birbhum district on Sunday.
The Ram Navami celebrations turned violent in the state and a man was killed in a clash in Purulia on Sunday. BJP supporters carrying swords defied the ban on armed rallies at several paces, police said.
Leaders of the ruling Trinamool Congress alleged that children were seen carrying swords at a procession in Purulia and some people were even showing off firearms.
Chief minister Mamata Banerjee said she had directed police to take strong action against anyone found brandishing weapons at religious rallies.
"God Ram did not use a pistol. In history books we have read that he killed Ravan with a bow and arrows. Police should immediately act against those who carried weapons during Ram Navami. There should not be any exception," she said.
According to police, state BJP chief Ghosh allegedly brandished a bow and arrow at a rally, displayed his skills with two traditional fighting sticks and held a sword at the end of the event.
Ghosh said he was not aware of any ban on carrying arms in Ram Navami rallies since this is an age-old Hindu tradition to conduct "astra puja", or weapon worship, on the auspicious day.
"Where is the government order banning arms in Ram Navami processions? Where is the circular?" he asked.
The BJP and the Trinamool Congress organised processions to celebrate Ram Navami in various parts of the state on Sunday. The BJP dubbed the rallies as the first step towards "uniting the Hindus" in West Bengal.
Ghosh called the police case against him a Trinamool Congress stunt to corner the BJP.
"Police were influenced and pressured by the chief minister," he alleged. "When the ruling party saw that we organised a huge rally and successfully celebrated Ram Navami, it was a political embarrassment for it. Now they are filing cases against me and BJP workers. We are ready to counter this legally."
Ghosh, the MLA for Kharagpur town, faced an identical case in April 2017 for wielding a sword at a Ram Navami rally.
(With agency inputs)
Close Story
Personalise your news feed. Follow trending topics