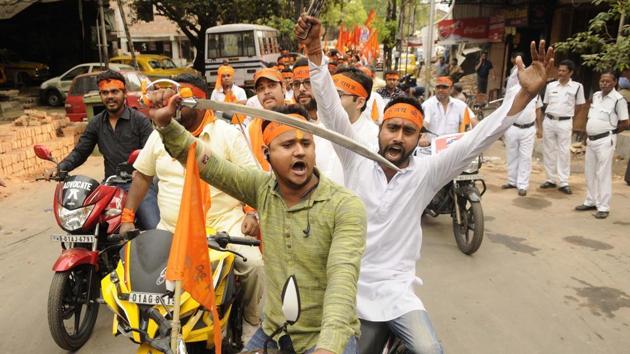 How Bengal's Ram Navami-Hanuman Jayanti celebrations descended into chaos
Rioters gutted several shops and vandalised a number of vehicles over the previous week. Police have arrested 12 people under non-bailable sections of the IPC in this connection.
UPDATED ON APR 14, 2017 09:49 AM IST
Minor clashes broke out between Hindus and Muslims in Bengal's Purulia district over the last one week, even as a saffron wave engulfed the state in the wake of the Ram Navami-Hanuman Jayanti celebrations.
Rioters gutted several shops and vandalised a number of vehicles during this period. Police arrested 12 people under non-bailable sections of the IPC in this connection.
The clashes began on April 6, while chief minister Mamata Banerjee was holding an administrative meeting in the district. "There was a law-and-order problem. But we took strict action, and everything is peaceful now," Purulia superintendent of police Joy Biswas told HT.
Though police refused to elaborate on the arrests, local residents claimed eight of the 12 people arrested belonged to the Hindu community while the rest were Muslims. "The accused were produced in court and remanded till April 21," said a senior district police officer.
Police said the first incident occurred when Hindutva activists took out an unauthorised motorcycle rally in Baghmundi area, as part of the Ram Navami celebrations, on April 6. They entered into an altercation with Muslims near a mosque in Hurumbi village, leading to a scuffle.
On April 8, both the communities clashed at Baghmundi market. Shops and houses, mostly belonging to Muslims, were set afire near the market. A huge contingent of policemen – including Rapid Action Force personnel – was deployed in the area to maintain peace.
A few days later, on April 11, Hindu groups took out a procession to celebrate Ram Navami-Hanuman Jayanti in Jhalda area. Miscreants threw stones at them, triggering further clashes.
While police said the chief minister has directed them to deal with the situation "neutrally", members of the saffron party made a different claim. "In Bengal, police are using lathis to bear down on peaceful Ram Navami celebrations. Worshippers of Lord Ram are being arrested. Processions are being disturbed by miscreants in different areas, but the police are only arresting Hindus," said Vishwa Hindu Parishad spokesperson Sourish Mukherjee.
Since October 2016, Hindu-Muslim clashes have been witnessed in pockets of Kaliachak and Chanchol (Malda district); Jalangi (Murshidabad); Chandannagar (Hooghly); Bhagabanpur (East Midnapore); Kharagpore (West Midnapore); Hajinagar and Kanchrapara (North 24 Parganas); Sankrail and Dhulagarh (Howrah); and Katwa, Jamuria and Kaksha (Burdwan).
Even on October 11 and 12 last year, a series of clashes had occurred across Bengal over Durga Puja immersion ceremonies and Muharram processions. Violence erupted again in Dhulagarh near Kolkata on December 12, when Muslims took out a religious procession through the main market road in a neighbourhood dominated by Hindus. Houses and shops were set ablaze in the clashes that followed, leaving hundreds of people from both communities homeless. Though police arrested 65 people, clashes continued for the next few days.
Unlike the clashes that had happened earlier, the Dhulagarh incident received a lot of political attention. Many parties – including the BJP, Congress and CPI(M) – sent their leaders to the affected areas.
Purulia is Bengal's westernmost district, bordering Jharkhand.
Close