Maoist leader and wife surrender to the police in Bengal
Published on Jan 25, 2017 02:11 PM IST
They handed over their weapon to the DGP at the state police headquarters.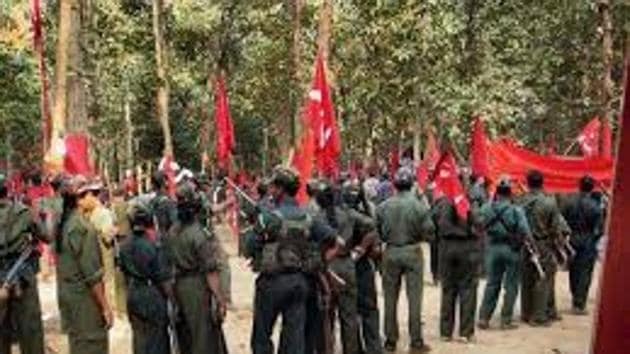 Ranjit Pal, state committee member of CPI(Maoist) and one of the few leaders to have eluded the police yet, surrendered with his wife, Anita, in front of Surajit Kar Purkayastha, director general of West Bengal police, on Wednesday afternoon.
"I have followed this path for 17 years and realised the futility of it," said Ranjit Pal after handing over his self loading rifle to the top cop of the state.
With the Pals giving up arms, a total of 219 Maoists surrendered to the West Bengal government. After Pal's arrest, Akash is the only senior rebel leader who has managed to stay beyond the clutches of the police.
Pal was active in the area of Ayodhya Hills in Purulia and Jharkhand adjoining Purulia. Between 2006 and 2011, he led the 34-member Ajodhya platoon of the CPI(Maoist) and maintained close liaison with the squads active in the Dalma hills and Gurbandha in Jharkhand.
Ranjit Pal, who looked younger than his mid forties sat with his wife by his side at the state police headquarters Bhawani Bhavan and read out a statement to repudiate the movement. Both of them were dressed in dark shirts and trousers and wore jungle fatigue caps.
"Delivering the goods for the people through armed struggle is not possible. What the government is doing actually constitutes welfare of the people. I want to be a part of that and therefore, I surrendered. I wish to start a new life. I also appeal to the members of CPI(Maoist) to eschew violence and return to the mainstream," he said.
"Ranjit and Anita Pal realised that they were going the wrong way. This realisation prompted them to surrender to the police," said Surajit Kar Purakayastha, DGP of West Bengal.
Ranjit Pal is a native of Barikul of Bankura district.
The Maoists held sway in large tracts of West Midnapore, Purulia and Bankura districts between 2008 and 2011. With the elimination of their leader Kishenji in the winter of 2011 and subsequent surrender by several senior leaders, the movement fizzled out in the state.