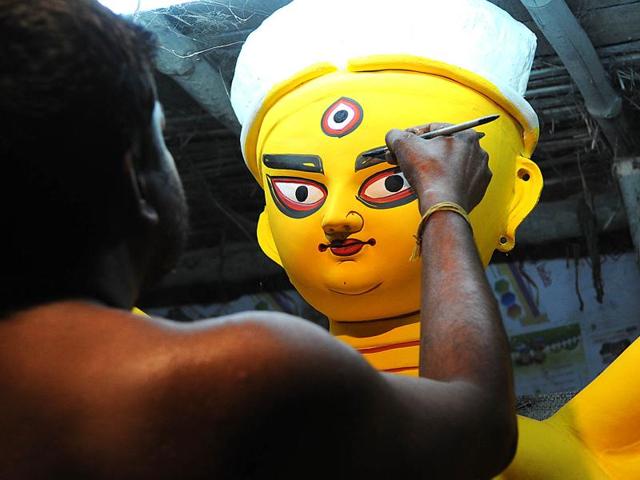 Sex workers' only puja falls silent
This year sex workers discontinued their puja in Sonagachi.
PUBLISHED ON OCT 04, 2016 12:20 PM IST
They perform the duty of contributing the first lump of earth that goes into making of a Durga idol, but don't have the right to organise their own puja.
This year sex workers of the city discontinued their own puja, claiming non-cooperation of the police and KMC.
In a city that will organise as many as 1,458 community pujas, this was the only one by the sex workers.
Worse, many feel it does not speak well of a city that is trying to be more inclusive and is taking a number of steps to bring the third gender into the mainstream.
Durbar Mahila Samanwaya Committee (DMSC), the largest body of sex workers in the state told HT that they have decided not to hold the pujas after harassment for the past three years. The puja was held in Sonagachi since 2013 and every time the sex workers had to move court to obtain permission after the police and Kolkata Municipal officials turned down their application.
Read:Durga parade: Catch a glimpse of the best idols on Red Road
"We feel helpless. This year we decided to discontinue the pujas. We cannot run from pillar to post every year including the courts simply to obtain a permission that is given almost to everybody. It is better we do not celebrate," Bharati Dey, secretary of DMSC told HT.
"This time they have not applied. So I cannot comment on anything," was all that Subhankar Sinha Roy, deputy commissioner of police (North) would comment.
"They started their puja in 2013. Kolkata police has stopped giving permission for any new puja. They went to court and obtained permission. We requested them not to hold the puja on the congested street," said a senior Kolkata police officer in Lalbazar.
However, the officer refused to comment on how dozens of pujas are held completely blocking busy roads of the city every year.
"The sex workers are angry. Government is doing so much for different marginalised communities including the third gender. But we sex workers have no right to celebrate a community puja in the open," added Dey.
Read:Boons that Mamata Banerjee is likely to seek from the Devi
DMSC, a community-based organisation of sex workers, has over 70,000 members in Bengal with their headquarters based in Sonagachi, one of the the largest red light areas in the country. In Sonagachi, DMSC has 11,000 registered sex workers, besides a far higher figure who they reach.
Trouble began in 2013 when they first wanted to hold a puja at the corner of Abinash Kabiraj Street in Sonagachi.
Kolkata Police and Kolkata Municipal Corporation officers turned down their plea arguing they are not open to any new permissions. The sex workers went to court and eventually held the Puja inside what is used as a clinic.
"The space in the clinic is in too narrow. Only seven to eight persons can stand there to offer anjali. We wanted to hold it in a corner of Abinash Kabiraj Street. It would have allowed everyone to participate. So many community pujas backed by bigwigs even block important roads. But we were not allowed to hold a small puja," said Dey.
Read:Kolkata Police to launch an app to help pandal-hoppers
Last year the local councilor allowed them a small space outside Sonagachi and near a local community hall. But the space was again too narrow.
"The girls here want to celebrate like normal people in a open space, not inside a room. We even asked for permission to break a wall of the clinic and create a door so that more people could come in and could even rush out in case of an accident (like a fire). But KMC objected to all that," said Dey.
Close