Unique blood donation and exchange at Indo-Bangla border on Mother Language Day
Feb 21, 2018 04:13 PM IST
In a function 100 Bangladeshi and an equal number of Indian citizens donated blood for the people of the other country.
A unique blood donation camp was organised at the India-Bangladesh border of Petrapole-Benapole on Wednesday where 100 citizens of both countries donated blood for the people of the other nation. The event was organised to celebrate International Mother Language Day.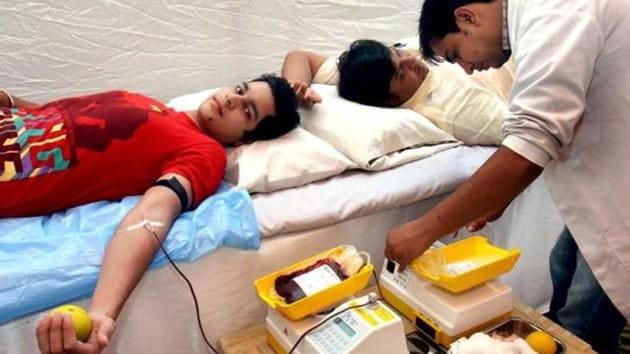 State food & food supplies minister, Jyotipriyo Mullick, who was the chief guest and principal organiser of the programme, said that blood exchange programme was held at the zero point at the Petrapole-Benapole border.
Read: Facebook's blood donation feature gets over 6 million members in India
February 21 is promoted as International Mother Language Day by the UN to raise awareness of linguistic and cultural diversity.
The day is observed with great fanfare in Bangladesh, where language underpinned the rise the Bengali nationalism that culminated in the emergence of an independent nation in 1971.
The day owes its significance to police firing on and killing students in Bangladesh on February 21, 1952 when they were agitating for the recognition of Bengali as the language of erstwhile East Pakistan as opposed to Urdu that the rulers of Pakistan declared as the national language.
Read: Bengal: Youth organises blood donation camp to replace wedding feast
"The programme was attended by around 20,000 people each from India and Bangladesh. Writers and poets of both the countries were present. Renowned writer from Bengal, Shirshendu Mukhopadhyay narrated his experience during the Bangladesh liberation war on the occasion," said Mullick.
"We do not want to make any difference in the blood flowing through the veins of the Bengalis on either side of the border, and therefore, this blood exchange programme was organised. It is a happy occasion ," said Ashraful Alam Milton, the mayor of Benapole, the town on the Bangladesh side, said at the event.
More than 25 crore people -- 16.3 crore in Bangladesh and 9.13 crore in Bengal -- speak Bengali on either side of the border.
Read: International Mother Language Day :'We love Punjabi, but English can provide us jobs, social status'
"I could have donated blood. But I suffer from high blood sugar and it would have been a waste since it cannot be transmitted to anyone," said the minister from Bengal.
The donors from the countries were gifted a memento describing the significance of February 21.
The country's largest land port is located at Petrapole. It is about 100 km away from Kolkata.