Bengal: Youth organises blood donation camp to replace wedding feast
Published on Feb 12, 2018 11:50 AM IST
A total of 35 persons, including the couple, donated blood.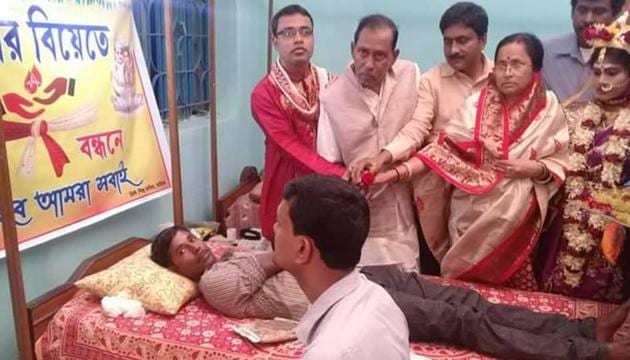 No spotlight, no gifts and no sumptuous dinner, a smalltime businessman from Ghatal of Bengal's West Midnapore district has celebrated his marriage by organising a blood donation camp, where the couple and some of the guests donated blood.
When Sandip Roy, 31 and Sreela Mondal, 25, tied the knot of February 8, topmost on their minds was the fact that Bengal faces a shortage of blood every summer. They wanted to contribute in a small way and send a message to spread the message of the need to donate blood.
Read: Govt employees to get paid leave for blood donation
"Considering that every summer West Bengal faces a crisis in supply of blood, I was thinking of doing something since the marriage was finalised. I consulted the idea to my friends and guardians and they readily agreed," said Roy.
A small pandal was erected where it was written "Sandiper biyete rokter bondhone aboddho hobo amara shobai" (Let's unite for blood donation at Sandip's marriage).
A total of 35 persons donated blood on the occasion.
Read: Facebook's blood donation feature gets over 6 million members in India
"This is a remarkable step. The couple deserves thanks and gratitude of the people. I am sure his example will prompt more youths to undertake similar gesture on the occasion of their marriage," said blood donation activist and founder of Medical Bank in Kolkata, D Ashish.
There are only a few examples in the country of couples organising blood donation camps to celebrate their wedding. On June 7, 2013, in Odisha's Kendrapara, 26-year-old groom Suvendu Kumar Pratap and his 22-year-old bride Suchitra Jena turned their marriage reception into a blood donation camp.
In mid December 2017, groom Dr Gunjan Jain and bride Osheen Jain donated blood for Thalassemia patients before getting married in Ujjain. Some of their friends and relatives, too, donated blood.
Read: Donate blood, Mumbai: Acute shortage in hospital blood banks
The youth from Bengal, Sandip Roy, is also a member of CPI(M)'s youth wing Democratic Youth Federation of India (DYFI).
The couple's gesture has already triggered a discussion in West Midnapore district, said DYFI's state secretary in Bengal, Jamir Molla, who was one of the invitees to Roy's event.
Personalise your news feed. Follow trending topics