Plot-twister. Reluctant star. Meet Tamil cinema's Dhanush
He didn't want to be an actor. Reed thin and gangly, it wasn't hard to see why. But what Dhanush has done, over two decades and 40 films, is carve out a niche in an industry with little room for unusual men.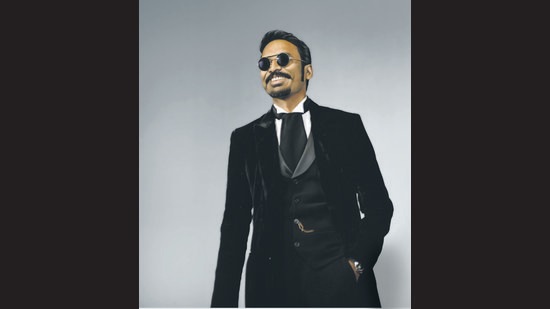 Updated on Jul 02, 2021 07:38 PM IST
Across India, he's probably best known for his 2011 viral song Kolaveri Di. It's much harder to pigeon-hole Dhanush if you know his body of work. To followers of Tamil cinema, the actor-producer-director-singer-songwriter is the rising star with the swagger, from a film family. But Dhanush is an unusual man in an industry that makes little room for unusual men.
He took on his first role at 16, so unwillingly that the tale of how his father, director and producer Kasthuri Raja, forced him into the business is now film lore. Reed-thin and gangly, it isn't hard to see why Dhanush thought the whole endeavour a bad idea.
But instantly, he struck a chord. That first film, Thulluvadho Ilamai (Exuberance of Youth; 2002), a tale of the pleasures and pangs of growing up, told through the story of three boys who run away from home, was a sleeper hit. Directed by his father and written by his brother Selvaraghavan, it helped Dhanush find his audience.
Over the next few years, with Selvaraghavan directing, he would show sparks of raw talent in films such as Kaadhal Kondein (I Fell In Love; 2003), where he plays an abused child grown into an obsessive lover. In films such as Pudhupettai (New 'Hood; 2006) he would exhibit the swagger that has come to typify his gangster roles, including most recently in Netflix's Jagame Thandhiram.
"I was like raw iron. My father and my brother moulded me and I still don't know what they identified in me which I couldn't figure out myself," Dhanush, born Venkatesh Prabhu Kasthuri Raja, told IANS in 2017.
Now 37, he's a two-time National Award-winning pan-India star with sights set on Hollywood too. His next projects will be Aanand L Rai's Atrangi Re, a non-linear story of two romances from different timelines, alongside Akshay Kumar, and the Russo brothers' spy-action thriller The Gray Man, alongside Ryan Gosling and Chris Evans.
He enjoys playing the field, and has taken on films in Tamil, Hindi and English. He played a helpless ageing farmer in Asuran (Demon, 2019; for which he won a National Award); a fake fakir in The Extraordinary Journey of the Fakir (2018); a mute filmstar in Shamitabh (2015); and the underdog in a rooster fighting ring, in Aadukalam (Playground; 2011).
That last project was helmed by the acclaimed Tamil director Vetrimaaran, now a frequent collaborator. "Working with Vetrimaaran was a big turning point in Dhanush's career. Along with Selvaraghavan, Vetrimaaran has really moulded him," says film critic Baradwaj Rangan.
***
The word most often used to describe Dhanush as an actor is "effortless". He brings to the table swagger and skill in equal measure, and can balance machismo and vulnerability with an ease that is rare. Vetrimaaran and he are now producing films together too. Visaranai (Interrogation; 2015), a part-docudrama, part-crime thriller that follows three immigrants falsely accused of robbery, premiered in the Orizzonti (Horizons) section of the Venice Film Festival, won three National Awards and was India's official entry to the Oscars.
Dhanush's 2017 directorial debut, Pa Paandi, was a sensitively handled film about an aging stunt master. Dhanush composes and sings too. He wrote Kolaveri Di for 3 (2012), a psychological thriller directed by his wife Aishwarya R Dhanush. In the years since, there have been hits such as Rowdy Baby (Maari 2, 2018; with Dhee) and Nethu (Jagame Thandhiram). "He has a great knack for understanding what people like. For Jagame Thandhiram, I would send him songs, and although he has had many big hits, he would stick to what this film needed. Though he doesn't accept it, I would call him the mentor of this album," composer Santhosh Narayanan told IANS earlier this month.
***
Directed by Karthik Subbaraj, Jagame Thandhiram (The Universe is a Mystery) is one of Dhanush's two 2021 releases. The other is the Karnan, now on Amazon Prime after a theatrical release in April. While the latter is a searing indictment of caste, the former is a gangster flick that tries, in a rather mixed-up way, to tackle the issue of immigration politics.
"His performances look effortless but there is a lot that goes into them," says Subbaraj. "He works on everything from how a character is going to laugh to how he's going to react to a situation. He's not a method actor. But not once did I have to remind him who the character is or what his choices would be."
It bodes well for the audience that Dhanush is not afraid to try new things. In Raanjhanaa (2013), his first Hindi film, he played the son of a Hindu priest from Varanasi in love with a Muslim girl who doesn't love him back. In 2018, when he signed on for The Extraordinary Journey of the Fakir, R Balki, who directed Dhanush in Shamitabh, says he wasn't surprised. "At heart, he's just someone who loves stories and that shows in the films he picks," Balki says. "He does all the work and he does it silently."
The role of actor is one that Dhanush has come to enjoy. "People who identify their calling are lucky," he told IANS in a 2017 interview. "In my case, I consider myself blessed because my calling identified me."
Enjoy unlimited digital access with HT Premium
Subscribe Now to continue reading
Close Story