How can Ayurveda help you transform your skin; Expert shares insights
Jan 31, 2023 01:04 PM IST
Ayurveda when understood correctly can help you transform your skin beyond your imagination. Check out your skin type as per Ayurveda, problems peculiar to them and the best path to combat these problems in the most efficient manner.
To ensure lasting beauty and well-being, Ayurvedic skin care treatments are based entirely on your skin type. In order to reap the most benefits out of Ayurvedic skin care treatments or products, one must understand everything there is to know about the three "Doshas" and the respective skin types associated with each of them as described in the Ayurveda – Vata, Pitta, and Kapha. Together, these Doshas comprise the 5 elements: air, space, earth, water, and fire. Vata has two components of air and space. Pitta has the two components of fire and water, and Kapha has the two components of earth and water. Ayurveda, an ancient Indian practice, views the skin as a reflection of overall health and balance and can help you improve your skin health. (Also read: Winter Skincare: How to nourish your skin according to Ayurveda )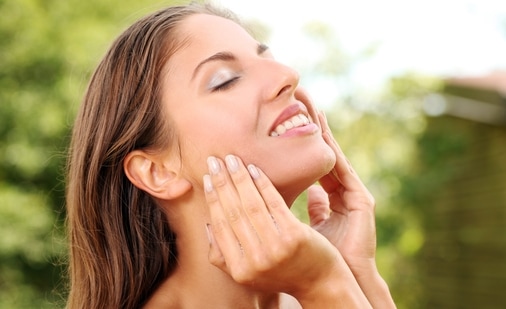 Talking to HT lifestyle, Medha Singh, Aesthetician, Cosmetologist and CEO of Juvena Herbals, explained Dosha's and their respective skin types, certain problems peculiar to them and the best path to combat these problems in the most efficient manner.
1. Vata skin type
At an early age, individuals with this skin type tend to develop thin skin, dryness, an uneven tone under the eyes, discoloured mouth, pigmented neck skin, crow's feet, and drooping mouth, along with the appearance of horizontal and vertical lines in the centre of the eyebrows. This is a result of fat depletion occurring early. Fat depletion is the depletion of collagen and elastin fibres, replenishing those two components restores balance, and brings back the thickness of the collagen and elastin and the moisture level of the skin.
Individuals with this type of skin must avoid face washes, but should instead use a herbal emulsion twice a day, and moisturize twice a day for protection as well, once in the daytime and a night cream before bed. This applies to both facial and body skin. With regards to body skin cleansing, those with the Vata skin type can rely on Abhyangam or Udwarthanam.
The process of self-massaging the face with an emulsion containing the right extracts that affect the murmurs and reflex buttons is known as Mukhabyanga. It affects your digestion positively, controls your air and space elements, detoxifies your body, and makes your lymph circulation perfect.
2. Pitta skin type
People with this skin type display hyperpigmentation, freckles, age spots, and liver spots, which grow increasingly visible after the age of 25. Acne is prominent in this skin type, similar to that of Kapha skin type. However, the acne type is Rosacea along with erythema. The ones with this skin type need to ensure they are protected from the sun, by wearing a layer of herbal mineral sunscreen, and also thicker clothes.
As people with this skin type tend to have larger pores that are frequently clogged, soft exfoliation should be done with water-soluble components which cool down the skin, because more heat is produced internally due to the Pitta imbalance. the ingredients that suit the Pitta skin type are – sandal, cardamoms, dry almond powder, Tea Tree, lavender essential oil, mint leaves, and basil leaves. Additionally, moisturizing should be done with a product containing honey, lavender, and camphor in it for the best results.
3. Kapha skin type
The problems with this skin type arise due to the imbalance of the water and earth elements. The water in the body can be balanced by drinking sufficient amounts of water, or by applying water topically, however, it is necessary to look for a solution based on lifestyle (If one tends to lead an active lifestyle, they will require more water). When the earth component of this skin type is imbalanced, the skin shows cystic acne, vulgaris acne, blackheads, whiteheads, and larger pores, not only at puberty but during middle age as well.
Acne can appear well into the 40s beginning from puberty if not treated properly and if the elements that make up this skin type are not rebalanced. The Kapha dosh gets imbalanced because of excess processed carbohydrates in the diet, less water, excess spicy food, and unnecessary afternoon naps as well. Utilising fuller earth is a great solution for people with this skin type, especially when there is an imbalance in the earth component. When combined with water-soluble nutrients and flavonoids, it restores balance and health to the skin.
Ayurvedic remedies are sometimes complex but highly logical and effective. For one to ensure they are reaping all the benefits of their Ayurvedic treatments, it is imperative to understand the root cause of the problems with regard to skin type and target them appropriately. Ayurveda when understood correctly can help you transform your skin beyond your imagination.