No time to visit the salon? Follow these simple tips to perform facial at home
Updated on Jan 21, 2023 11:17 AM IST
Try these easy skincare and beauty tips to give the best facial to your skin at home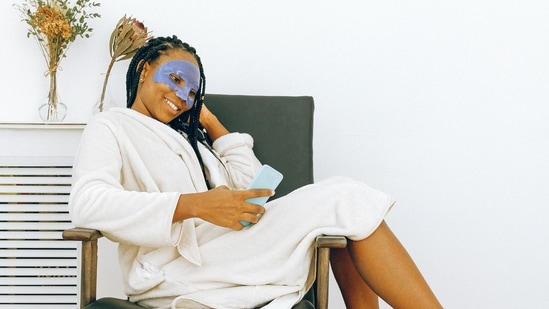 Skincare experts insist that if you perform a perfect facial at home every week, you can keep your skin young forever. If you don't find time to visit salon, you can give the best facial to your skin at home if you follow certain procedures and precautions.
In an interview with HT Lifestyle, Medha Singh, Herbal Beauty Expert and Founder of Juvena Herbals, suggested:
1. Wash your face with a gentle cleanser - Do not use face wash to cleanse your skin. Use a herbal-aromatherapy cleanser that is your skin's Ph-supportive.
2. Use ubtan and a pro-biotic enzyme - Do not scrub with a scrubber. Rather apply a soft traditional ubtan with dry fruits and herbs to exfoliate your skin gently. 7 minutes are enough for an ubtan to work on your skin. Scrub it off gently and not in the opposite direction of hair growth. Apply a pro-biotic enzyme pack to further exfoliate and enhance blood flow, wash within 15 minutes.
3. Massaging skin with effective massage cream - Massage your facial skin with quantity of effective massage cream. Do not use oil to massage skin as it can create friction and heat. Oil massage should be done only by an expert therapist. Emulsion/cream is considered best for self-massage facial.
4. Direction of performing massage - While massaging start with neck to boost lymphatic circulation. Also end the massage by working on neck to detoxify your skin well. Massage for 2 minutes over neck. Massage for 4-5 minutes over face. End by massaging for a minute over neck.
5. Applying pre-biotic pack - Apply a good pre-biotic pack over the face and neck for 15 minutes. Do not let the pack dry over your skin.
6. Prepping the eyes - An hour before getting ready, put cold/normal wet cotton swabs over the eyes and rest with them for 20 minutes.
7. Blink your eyes in normal/cold water - Take water in your palm and blink one eye in it 4-5 times. Do the same for the other eye. Repeat 2 times each. This will release the stress of the eyes and also the fluid retention under the eyes.
8. Use normal tap water to wash the pack - Wash the pack with normal tap water without rubbing - scrubbing over the pack.
9. Applying moisturizer over damp skin - It is always advisable to apply Moisturizer over damp skin. This allows the skin to absorb emollients more effectively.
10. Performing facial at home once a week - Facial must be done at least once a week in routine to keep your skin healthy. For a younger looking face at any age this can work wonders.
Bringing her expertise to the same, Bhawana Sharma from CavinKare added to the list of simple tips to perform facial at home. These include -
Step 1: Double cleanse
First and foremost is to ensure that the face is clean, and you remove any dirt, makeup or product build-up before you start with your facial. Use a cleansing lotion or oil first. Then, you cleanse again with a lightly foaming gel and gently clean your skin surface and remove residue. Don't fret if you don't have cleansers, you can use coconut oil or olive oil too.
Step 2: Exfoliate
Use a scrub (suiting your skin type) to remove dead skin cells. Ensure you scrub on the nose and chin area to deep cleanse and get all the blackheads and impurities out from the skin. This step helps to brighten skin. Always clean the face with lukewarm water. You can you any face scrub or can also opt for honey with coconut oil or brown sugar with oatmeal.
Step 3: Mask
Mask is essential for nourishing the skin and taking out all the impurities and give the skin radiant shine. Choose the perfect mask based on your skin type. But ensure you leave it on for 10–20 minutes and remove with a damp washcloth. You can also DIY your own mask at home with ingredients like yogurt, honey, oatmeal, avocado, and papaya.
Step 4: Stream
Steaming helps the pores to open and makes skin absorbent for the moisturizer (when used in the next step) to hydrate the skin. It also makes skin relaxed and moist. You can put some slices oranges, it helps in softening of the skin and opening the pores.
Step 5: Moisturize and massage
No facial is complete without a good massage. Use a good moisture to hydrate the skin and massage it in a circular motion all over the face and neck. It will help in increasing blood circulation and improves muscle tones, which keeps skin firm and bright.
Lastly, don't forget to create a relaxing ambience to get utmost satisfaction of creating a spa experience using whatever makes you feel calm, whether it be music, candles, crystals, essential oils or all of these.