Makar Sankranti 2023: Puja muhurat, rituals and all you want to know
Jan 14, 2023 09:45 AM IST
Makar Sankranti 2023: The auspicious Hindu festival of Makar Sankranti will be celebrated with great enthusiasm on January 15 this year. From puja muhurat to rituals, here's all you want to know about the festival.
Makar Sankranti 2023: Makar Sankranti is one of the major festivals celebrated with much grandeur in India and holds great significance for Hindus. This year the festival will be celebrated on January 15, 2023. It is considered auspicious for tenacity, worship, charity and sacrifice in the scriptures. The festival of Makar Sankranti, also known as Sankranthi, honours the Sun God Lord Surya and commemorates the sun's entry into the Capricorn zodiac sign (zodiac sign). It signals the start of the harvest season when people worship fresh crops and joyfully share them. According to Drik Panchang, Makar Sankranti is celebrated as Pongal in Tamil Nadu, Khichdi in Eastern Uttar Pradesh, Uttarayanan in Gujarat and Rajasthan, and Maghi in Haryana and Punjab. (Also read: Makar Sankranti 2023: When to celebrate Makar Sankranti? Know the exact date and puja muhurat )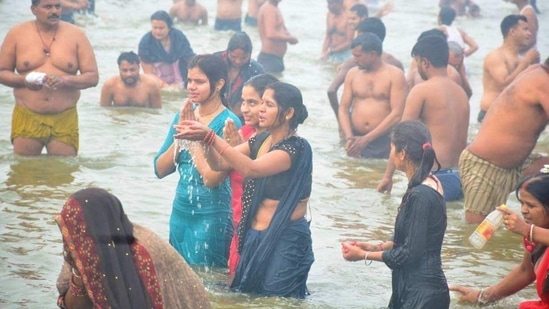 Puja muhurat:
One day following Lohri is observed as Makar Sankranti. The celebration will take place this year on January 15, 2023, on Sunday. According to Drik Panchang, the Sankranti tithi for January 14 will be at 8:57. The Makar Sankranti Punya Kala, meantime, will occur from 7:15 am to 5:46 pm (duration: 10 hours 31 minutes), and the Makar Sankranti Maha Punya Kala will begin from 7:15 am to 9:00 pm (Duration - 1 hour 45 minutes).
Makar Sankranti rituals:
Sankranti celebrations often last between two and four days in most regions. During the celebration, people offer homage to the Sun God. They also bathe in sacred rivers like the Ganga, Yamuna, and Godavari in the hopes of receiving merit or forgiveness for past misdeeds. In addition to worshipping Lord Sun through Surya Puja and Lord Shani, Gayatri Mantra and Surya Mantra are also recited.
The majority of people exchange and donate "Jaggery" (molasses) and "Til" (sesame seeds) on the day of the Makar Sankranti celebration. Sweets produced with sesame seeds are thought to include "satvic" components. In addition to giving to charity, people also donate kitchenware to their married daughters. When a family participates in humanitarian endeavours and supports the underprivileged, it is believed that this day would bring good fortune.
Khichdi is also prepared and eaten during this event, particularly in Eastern Uttar Pradesh, Bihar, and Jharkhand. Makar Sankranti is often referred to as Khichdi for this reason. Khichdi offerings to the Gorakhnath shrine are customary in Gorakhpur. One day before Makar Sankranti, Lohri is celebrated in Haryana, Punjab, and Delhi.