Yoga asanas to improve posture: Malaika Arora's trainer shares tips
Jan 08, 2023 01:01 PM IST
From Tiger Pose to Shoulder Stand, here are a few yoga asanas suggested by Sarvesh Shashi that can help in improving overall posture of the body.
Yoga comes with multiple health benefits. From healing the mind and the body to inducing proper sleep, yoga experts recommend inclusion of yoga in the fitness routine on a daily basis. Yoga also helps in strengthening the body by boosting stability of the joints and ranges of muscle groups. It also helps in boosting balance and overall posture of the body. Regular practice of yoga helps in alleviating risk of chronic illnesses, and creating body awareness. Bollywood celebrities such as Malaika Arora and Alia Bhatt are often spotted speaking of the benefits of yoga, and how it can heal the body and the mind. Malaika Arora's trainer Sarvesh Shashi ensures to share such fitness and yoga-related information on his Instagram profile on a regular basis. From sharing the benefits of the asanas to speaking of the routine to follow for targeting certain disorders, Sarvesh's Instagram profile is replete with such helpful information.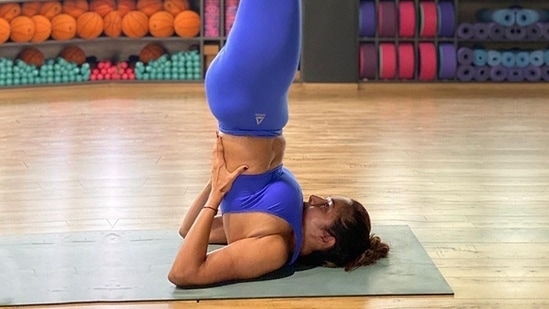 ALSO READ: Malaika Arora's trainer shares tips on yoga asanas to regulate the thyroid gland
Sarvesh, a day back, shared a short video and spoke of the importance of correcting body posture. He added, "Poor posture can aggravate bad neck, back, and shoulder conditions. Slouching also increases feelings of depression and unhappiness. Better posture improves self-esteem, increases energy, reduces the risk of injury, and improves blood flow in the body." Sarvesh further noted down three yoga asanas that can help in creating better posture - "Here are 3 asanas you can practice to improve your posture," he added. Take a look at the asanas suggested by Sarvesh:
Shoulder Stand
Revolved Chair Pose
Tiger Pose
The asanas shared by Sarvesh comes with multiple health benefits. Shoulder Stand helps in stimulating the thyroid, prostate and the abdominal glands. It also helps in toning the legs and the buttocks, and improving digestion. Revolved Chair Pose, on the other hand, helps in strengthening ankles, thighs and glutes and hip flexors. It also helps in increasing flexibility of the shoulders and massaging the internal organs. Tiger Pose helps in stretching the back muscles, and strengthening the core body.