Recipe: Confused about dinner tonight? Whip up some Tempeh Spicy Mexican Tacos
If Monday blues have already bogged you down, atleast we got your dinner menu sorted with this scrumptious recipe of Tempeh Spicy Mexican Tacos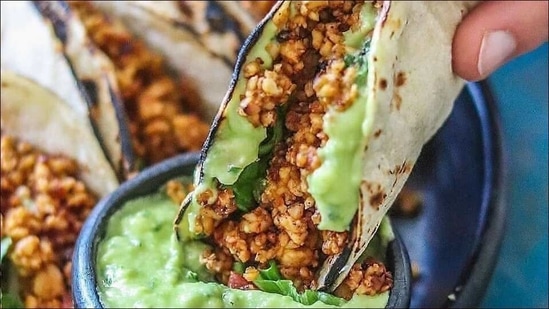 Updated on Mar 01, 2021 08:13 PM IST
Anyday is a good day to fall in love with your cooking so let's start with a simple yet tantalizing dish of Tempeh Spicy Mexican Tacos especially when you are running out of dinner preparation time and ideas. If Monday blues have already bogged you down, atleast we got your dinner menu sorted with a scrumptious recipe of Tempeh Spicy Mexican Tacos.
Being a deeply diverse food, there's an amazing variety of tacos out there but when it comes to tempeh, expect your tacos to be packed with nutrition. Apart from having B vitamins, fiber, iron, calcium and other minerals, an added bonus of tempeh is that it has no cholesterol.
Check out the recipe of Tempeh Spicy Mexican Tacos here:
Ingredients:
3 tbs of olive oil or oil of choice
2 cups of grinned tempeh
1 tsp of garlic powder
1 1/2 tsp of hot mexican style chili powder
1/2 tsp of cumin
1/2 tsp of liquid smoke
Salt/pepper to taste
Method:
Place all ingredients in a pan on medium-low heat. Cook for 7-10 minutes or until golden. Serve with our Avocado Basil Dip and some warm tortillas. Enjoy!
(Recipe: Instagram/vegandemocracy)
Benefits:
Made from soybeans that are fermented, tempeh is a nutritious and versatile ingredient. It is high in protein and fiber and contains valuable prebiotics.
Being high in soy protein, it can increase weight loss, reduce cholesterol levels and hunger while promote satiety. When it comes to meat alternatives, tempeh is not only tastier but also healthier as a vegan superfood and has been found to reduce pain in joints.
Close Story
Personalise your news feed. Follow trending topics