Love is an ability, says Little Couple Payal and Kapil
Mar 12, 2022 01:45 PM IST
Differently-abled influencer couple Kapil and Payal, who are popular on Insta as Little Couple- Payal Kapil, say love made up for all shortcomings in their lives.
Love knows how to find its way. This holds true for the differently-abled couple, Payal and Kapil who are married for over a year now. The influencers who are popular on Insta as Little Couple- Payal Kapil, met through a dating app, became social media buddies and started sharing their lives with each other. "I had no plans of getting married. My life has enough challenges and marrying someone like me would have added more to it, that's what I used to think. My mother often pushed me to tie a knot but I used to ignore her," says Kapil, a banker from Indore. He has arthrogryposis, a medical condition that affects the joints in the body and dwarfism.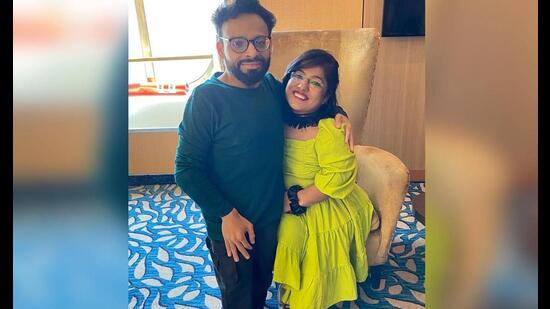 Meeting Payal was not a mere coincidence for Kapil, it was destined. "When we became friends on social media, we started talking about our issues, challenges as Payal is also dwarfed. We find solace in each other's company but marriage was something we never thought of! It happened as God had it planned. One of my relatives who visited us talked about Payal out of the blue. I was eavesdropping. That relative was talking about my rishta with her. She had no idea that we were friends but my mother knew about our friendship. I called up Payal and asked her straight, she and I decided to give it a shot and got rokafied in seventeen days," says Kapil.
When Payal saw Kapil first, she was confused and cried. "He took me for a long drive, gave me a rose and said he loves me. I had never experienced this and was baffled. I just said thank you and we both were quiet. His height is shorter than mine and I was not very happy about it but ended up marrying each other. Something which seemed difficult and impossible before, is now a reality. I love him like no one. I don't need anyone else by my side when he is around. He is my support and motivation," says Payal who loves to make reels for social media and credits Kapil for the same. They have 125K followers on Instagram and 145K on youtube. The couple endorse lifestyle brands and people love to click pictures with them. "Whenever we step outside of our house, there are always people around us who want to take a selfie, and I love this experience when you are treated like a star. I also like motivate differently-abled people through my social media videos," says Kapil.
Both of them had a troubled childhood, especially Kapil who had to go through multiple surgeries to stay alive. "Though my school and society friends were supportive, I was mocked by strangers for the way I look. I couldn't play sports, my most favorite activity and slipped into depression. I started eating too much and gained a lot of weight. After some time, I decided to join a gym but they refused to help me out. I planned my diet and exercise regime on my own. My focus was on reducing calories and within a year, I was down with more than 15kgs. I became fit and mentally healthy, my body posture also improved and I even started driving. I inspired others who are dealing with similar issues to take up their health seriously. I even started preparing for bank exams. There was a time when I joined a graphic designing course and even topped it but when I asked for a job, they were only willing to pay Rs. 2500. I was heartbroken," says kapil who emphasized that challenges are plenty but so are solutions.
Payal is from Rajasthan and even thought who would marry or support her. "Maa would say ki koi rajkumar aayega and I laughed out loud. I had my doubts about Kapil too, but the love in his eyes made me surrender. He is a blessing and sometimes I feel how could I doubt him when I met first? Recently we went for a cruise trip all by ourselves and it was the best trip. A lot of people talked to us and asked our stories, clicked selfies and this filled us with more love for each other," says Payal who believes that love can magically transform you.