Turkey travel diary: Shopping for souvenirs in Istanbul? Here's where to look
Jan 14, 2023 01:25 PM IST
Istanbul in Turkey is particularly well known for its souvenir shopping. Whether you are looking for something to commemorate your visit or to take home as a gift for family and friends, here's where to look to suit every taste and budget
Istanbul is a magnificent city, steeped in history and culture, that is home to some of the world's most iconic landmarks and it also offers a wealth of shopping opportunities from traditional bazaars to modern malls and is particularly well known for its souvenir shopping. Whether you are looking for something to commemorate your visit or to take home as a gift for family and friends, Istanbul has something for everyone.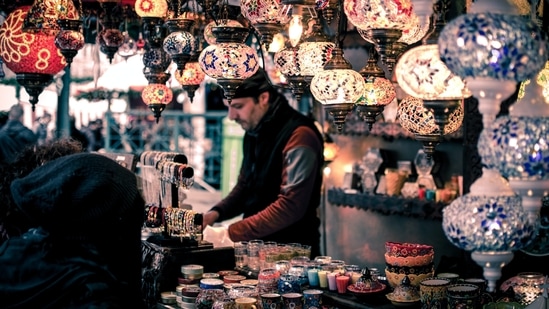 The Grand Bazaar, located in the heart of the city, is the most famous place to go for souvenir shopping in Istanbul. This sprawling complex, which dates back to the 15th century, is made up of more than 4,000 shops and stalls, selling everything from jewellery, carpets and antiques to clothing, spices and leather goods. With its maze-like layout and colourful displays, it is easy to get lost in the Grand Bazaar but that's part of the charm.
Another popular spot for souvenir shopping is the Arasta Bazaar, located just outside the Blue Mosque. This covered market is home to more than 60 shops, selling everything from traditional Turkish items such as hand-painted ceramics and jewellery to modern souvenirs like T-shirts and mugs. The Arasta Bazaar is also home to several cafes and restaurants, making it a great place to take a break from shopping and enjoy a traditional Turkish meal.
If you're looking for something more modern, Istanbul also has plenty of shopping malls. The Cevahir Mall, located in the Sisli district, is the largest shopping mall in Europe and offers everything from designer clothing and accessories to electronics and home goods. The Kanyon Mall, located in the Besiktas district, is another popular destination for shopping, with more than 160 stores, restaurants and cafes.
When it comes to souvenir shopping, Istanbul also offers plenty of unique and interesting items. From hand-painted tiles and pottery to traditional Turkish tea sets and coffee pots, there are plenty of items to choose from. The Grand Bazaar and Arasta Bazaar are particularly well known for their selection of handmade crafts and many of the stores in the shopping malls offer unique and creative souvenirs.
No matter what type of souvenir you're looking for, Istanbul has something for everyone. From the traditional bazaars to the modern malls, there's something to suit every taste and budget.