Lok Sabha elections 2019: All's not smooth for weavers in silk industry of Varanasi
In the world of the Banarasi silk industry, the term "tana-bana" is also a well-worn metaphor, representing centuries of cooperation between Muslim weavers and Hindu traders of the gorgeous Banarasi sari.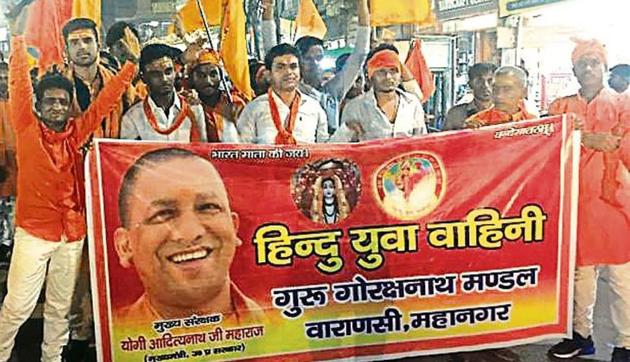 Published on Apr 22, 2019 07:36 AM IST
"Tana" and "bana", loosely warp and weft, aren't just two basic hand movements to turn the thread at the loom. One runs the yarn vertically and the other breadthwise. With successive movements, an ornamental paisley appears on the silk fabric.
In the world of the Banarasi silk industry, the term "tanabana" is also a well-worn metaphor, representing centuries of cooperation between Muslim weavers and Hindu traders of the gorgeous Banarasi sari.
In Varanasi, the constituency of Prime Minister Narendra Modi and an ancient seat of the Hindu faith, the bells of a national election have tolled. The issues, however, aren't about the sari industry and artisans linked to nearly a dozen crafts. Together, they are the biggest employer in the Varanasi region, apart from tourism.
Rather, in the narrow peoplechoked lane leading to the Dasashwamedh ghat on the bank of the Ganges, religion and politics blend perfectly. Sloganchanting youths from the rightwing Hindu Yuva Vahini took out a procession heavy on religious symbolism.
Leading the rally was a couple dressed like the legend of Lord Ram and his wife Sita, seated on a decorated horse chariot. Their rallying cry: "Ek baar phir, Modi sarkar (Modi government once more)". The procession culminated at the ghats, coinciding with the "aarti" ceremony, a spiritual spectacle witnessed by thousands every evening.
The camaraderie — between Muslim weavers and Hindu traders — holds most of the time.
"But during elections, the two communities go separate ways. While Hindus vote for the BJP (Bharatiya Janata Party), Muslims will vote for anybody who can defeat the BJP," says Anand Verma, a small trader who sells silk yarns to Muslim weavers from his house in the city's Lallapur locality. Varanasi's sari and craft industry, which are heavily dependent on cash flows, suffered big blows from the decision to withdraw high-value currency followed by the introduction of the Good and Services Tax (GST).
HEADWINDS
The weaving industry is still buffeted by headwinds: small weavers say their margins have come down drastically since demonetization and work has shrunk because of the GST regime, which has increased costs for traders who buy from weavers.
"The GST has streamlined the trade for us. A large part of the Banarasi sari industry wasn't paying a single rupee in tax. As a country, we were losing revenue. For the big traders, GST isn't a problem now but for small weavers, it is an issue," says Vivek Baranwal, a local industrialist and office-bearer of the Eastern Uttar Pradesh Exporters' Association. Baranwal owns Shri Bhola Carpet Ltd, a leading exporter of carpets. Baranwal says US President Donald Trump's protectionism and imposition of 5% import tariff are a fresh threat to the Bararasi sari and Bhadohi carpet industry.
Both are exported to the United States, Argentina, Japan and parts of Europe.
However, in election speeches or rallies, the struggling economy of Varanasi doesn't figure, despite its gnawing problems. "My main handicap is that I am not literate. I can't handle things like GST," says Khursheed Khan, a weaver.
The Banaras Vastra Udyog Sangh, a body of everyone involved in the sari trade, is politically very influential in the Prime Minister's constituency. The well-being of the Banarasi sari trade, represented by this organization, has to be kept in mind, says Ravi Kant, whose Human Welfare Association works among weavers and yarn dealers.
If weavers can't deliver, then the entire trade, which follows an age-old traditional structure, suffers.
Typically, weaving happens under the watch of a grihasta, or a master weaver. Saris are aggregated by a gaddidar, or a small wholesaler, who passes it on to a kothidar, or a big wholesaler.
Since coming to power, Prime Minister Modi as well as the Uttar Pradesh government have launched several programmes aimed at weavers and the weaving industry.
"These schemes have benefited large traders more, with small weavers hardly benefiting," says Baranwal.
During the Modi government's tenure, the Varanasi region has acquired the Geographical Indication (GI) tag for 11 crafts, just like champagne or Darjeeling tea. These include gulabi meenakari (pink art on white enamel), wooden toys, black pottery and Banaras repousse, a craft involving designs on malleable metal.
For small sari manufacturing units, a centrally sponsored scheme offers 30% subsidy for solar power with a special term loan at 8.5% rate of interest. "A rule of thumb is that for 1 KW installations, the cost is ~50,000," says Baranwal.
The central government has also set up weaving clusters at Bajardiha, Ram Nagar, Arajiline, Cholapur, Pindra, Kashi Vidyapeeth, Sewapuri, Beragoan and Chandauli. These clusters function as training, skilling and marketing centres for Banarasi saris.
Under PM Modi's watch, the collateral-free Mudra loan programme was tweaked for the benefit of small weavers. Called Mudra Loan for Handloom Weavers, it offers artisans cheap loans at 6% interest. Weavers need to register online on the Punjab National Bank portal.
Data show the programme has largely been a failure. Mukhtar Ahmed, a grihasta or a master weaver, says credit is a big issue for craftsmen like him and his application for a Mudra loan got no response. He says daily wages for handloom weavers have fallen from Rs 350 to Rs 150 in the past two years.
"Non-performing assets in this scheme began to rise alarmingly and is at 70%. Banks, therefore, have also lost interest in the scheme. Typically, they take 3-4 months to clear batches of applications," says a senior handloom department official, asking not to be named.
According to figures accessed by HT, the number of Mudra loans approved for weavers has been falling. In 2016-17, 680 applications were approved, spread over six districts. This came down to 500 in 2017-18 and fell further to just 380 beneficiaries in 2018-19.
"Banks are still not clear about how to claim the subsidy component from the Centre (textile ministry). They are also not clear about processes that need to be followed," the official said, requesting anonymity.
According to the official, at least 15 banks were scheduled to set up special windows to actively disburse loans to weavers. However, only five have been successfully doing it. These include PNB, Union Bank, Kashi Gomti Bank and Allahabad Bank. "The bigger public-sector banks are missing from this," the official said.
"All these schemes haven't reached the common man. But the Banarasi sari is never an election issue for us, even though it is linked to our livelihood. That's the way it is," says Verma, the yarn-seller. Hafiz Abu Bakr, a tailor from Lohta, a weaving village on the outskirts of Varanasi, says even a 6% interest rate isn't viable for him. There are reasons why the state of the economy doesn't matter during elections. "Uttar Pradesh has been in the thick of identity-based politics in post-colonial India, especially in the last 30 years… Along with the rise of Hindutva discourse, the state has been witness to lowercaste identity based mobilisations in the form of Mandal and Dalit politics," says political analyst Sajjan Kumar, the co-author of How India Votes, A Stateby-State Look.
A struggling handloom industry shows no sign of any impact on elections. "This time the issue is to give another term to Modi ji. He is the king. The ghats have been cleaned. The airport has been renovated. The city's power problem is gone. These are Modi's achievements," says Sunil Bind, a voter belonging to the Other Backward Classes category.
The state government has another scheme called the Powerloom Udyog Vikas Yajana, under which weavers get ~1 lakh to buy a machine loom, ~5,000 for training and ~4,500 for setting up a workshed.
In all, 140 projects, involving small weavers and enterprises, were covered under this scheme since 2017-18. The state has also launched the "One District One Product" programme, under which weavers are supported with training and market access. "This is modelled on a Japanese scheme of 1970s," says a local official. In all, these programmes have been able to cover only 5,000 individuals. That's too small an impact given the large number of weaving households. A handloom department survey in 2015 enumerated 60,000 weavers in Varanasi alone.
In 2018, a fresh survey found the number to have dropped to 40,000, as an unabated migration of weavers to other cities continues.
Close Story
Personalise your news feed. Follow trending topics