Lok Sabha elections 2019: In Chambal, no political will to stop destructive sand mining
Both the Bharatiya Janata Party (BJP) and Congress are united as far as protecting the interests of those involved in illegal sand mining here is concerned. They have promised to denotify parts of the Chambal sanctuary, which spans 425 kms (covering MP, Rajasthan and Uttar Pradesh) so that sand mining can flourish in those parts.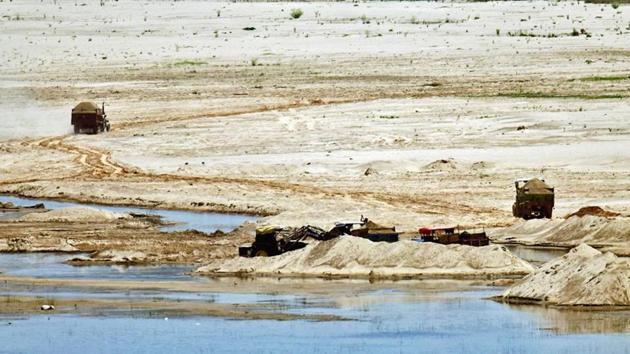 Updated on Apr 26, 2019 08:52 AM IST
Hindustan Times, Morena (Madhya Pradesh) |
Jayashree Nandi
It's election season, so there are scores of policemen on both the Rajasthan and the Madhya Pradesh borders, but they do not seem interested in stopping the illegal sand mining going on openly.
The Rajghat bridge, connecting Dholpur in Rajasthan to Morena in Madhya Pradesh, is a good place from which to view the Chambal wildlife sanctuary. It's also a vantage point from which the ongoing destruction of the environment is all too evident. Truckloads of sand is being loaded; and the river bank has completely collapsed in some parts, thanks to the mining.
Both the Bharatiya Janata Party (BJP) and Congress are united as far as protecting the interests of those involved in illegal sand mining here is concerned. They have promised to denotify parts of the Chambal sanctuary, which spans 425 kms (covering MP, Rajasthan and Uttar Pradesh) so that sand mining can flourish in those parts.
Most of the mining activity here takes place at night. In the day, the trucks store mounds of sand near the Chambal bank or close to the highway so that it can be easily loaded and transported to nearby cities for construction projects. There are kachcha roads through the Chambal ravines which lead trucks, even earth movers (known generically as JCBs after the company that makes them) to the banks.
Miners are willing to sell a truck full of sand at ₹10,000 with additional charges for transportation. Labourers involved get only ₹500 to load a small truck.
The residents of villages abutting the sanctuary see sand mining as an important livelihood option because agriculture in the arid region is neither productive nor dependable. The major share of profits from the illegal activity goes to the more powerful and the politically connected, according to locals .
"What do we do if not this? There are no jobs here. Labourers earn only ₹500 per truck and share it among themselves. Its small money but helps us. Since 2007, after the Supreme Court banned mining here, life has become very difficult," said Barelal Kosana of Bhanpur village. Some locals who didn't want to be identified admitted that the JCBs scoop out turtle eggs often and that turtle numbers have declined over the years.
ILLEGAL, DESTRUCTIVE
Mining inside the sanctuary is prohibited under the Wildlife Protection Act.
Due to local pressure, a spot near Piprai village along Chambal was identified for sanctioned mining, and tokens were issued by the government to mine here but miners took this to mean they could mine all over the area. In 2007, the Supreme Court's Central Empowered Committee (CEC) revoked the sanction. Now, there's still mining, but it is all illegal.
It is also hugely destructive.
"Sand is the primary nesting site for two species of crocodiles including the Gharial, eight to nine species of turtles and several species of ground nesting birds. Mining sites almost always target nesting areas because these are on the best quality sand. If illegal sand mining continues, it definitely won't serve the conservation purposes of the sanctuary. Chambal is the largest aquatic riverine sanctuary in India with great conservation significance. Nowhere else in the world will you see the species assemblage for aquatic biodiversity which is seen here. Chambal is also one of cleanest rivers, one can drink water straight from," said Tarun Nair, a conservation biologist who specializes in Gharials.
There are multiple explanations for the cleanliness -- one theory says the river was considered impure because of the animal hides that used to be dried on its banks centuries ago (which also explains its name, derived from chamda or chamra), which meant that no one used its water for just about anything; another has it that in the Mahabharatha, Draupadi placed a curse on anyone who drank water from the river, which, again, meant that no one used its water.
The clean water has proved a boon for animal species.
"Chambal is important because it is home to some of the critically endangered species. We have several species of soft and hard shelled turtles here including the Reed Crowned Roofed Turtle or the Batagur Kachua as we know it which is very vulnerable to sand mining. We have important bird species too like the Indian Skimmer. But I cannot speak about why illegal mining is continuing," said Jyoti Dandotiya, the person in charge of the hatchery at the Gharial Eco-park in Morena.
SAND MINING POLITICS
Illegal sand mining is a hot election issue in Madhya Pradesh's Morena, Shivpuri and Bhind.
Ramnivas Rawat, the Congress candidate from Morena, says that if his party forms the government in the Centre it will "de-notify some parts of the sanctuary".
The state has been governed by the Congress since December and Rawat blames the state's previous Bharatiya Janata Party government for not doing anything.
Narendra Singh Tomar of the BJP said pretty much the same. "We will see if some parts of the sanctuary where gharial numbers are low can be legalized for mining. People will try to mine illegally if it is prohibited."
Kamal Nath, chief minister of Madhya Pradesh, said last year, when he was not in power and the BJP ruled the state, that he would start a movement against illegal sand mining. He accused BJP politicians of supporting illegal mining, but such mining continues unabated even under the Congress government.
"I don't think the livelihoods argument stands. Only about 4 to 5% land cover is under the protected area network," Nair added.
He explained that a river is a moving body of sand, sediment and water. Sand is continuously transported from one place to another. When sand is removed or mined, it leaves the river "hungry" leading to erosion and changes in river course.
Interestingly, MP's mining portal states that there have been only two illegal mining cases since April last year in Sehore and Shivpuri, 130 cases of illegal transportation of minerals in different parts of the state, and none from Morena.
GP Sharma, former district mining officer of Morena, said: "I have shifted out of Morena. No mining officer lasts there more than a year. They are either killed or threatened."
A deputy ranger of the forest department was crushed to death last year by a tractor carrying sand in Morena near the Chambal. An Indian Police Service officer, Narendra Kumar was allegedly also mowed down by the sand miners along Chambal in 2015 while on duty.
The state government said it has initiated a crackdown. "A district-level task force has been created to deal with illegal sand mining. These district-level committees are called Pukhraj, which is police, khanij (mining), rajasya (revenue) and jungle (forests). So, it has representations from all these departments.
"This year, under the new government, an unprecedented number of cases has been taken up. A new sand policy is also on the anvil. We are only waiting for the elections to get over to release the policy. The new government has initiated this crackdown. We are aware of illegal sand mining along Chambal," said Neeraj Mandloi, the principal secretary of mining in Madhya Pradesh.
Close Story
Personalise your news feed. Follow trending topics