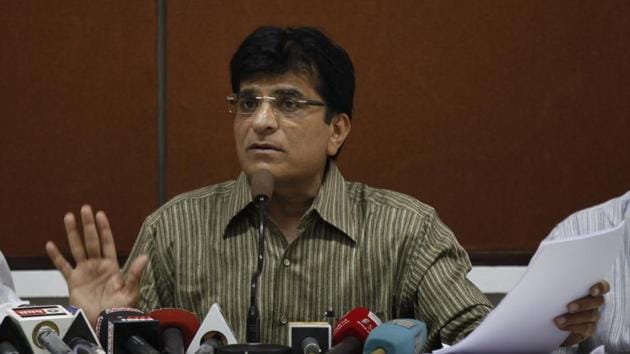 In BJP-Shiv Sena's partnership, lawmaker Kirit Somaiya is a casualty
Shiv Sena had been bitterly opposed to Kirit Somaiya's candidature. And the BJP's decision to replace him with Manoj Kotal underscores its keenness to keep its ally in good humour.
UPDATED ON APR 03, 2019 09:59 PM IST
BJP lawmaker Kirit Somaiya who had taken the lead role in hurling darts at Shiv Sena boss Uddhav Thackeray during the 2017 municipal elections, has not been re-nominated by his party. Instead, the BJP on Wednesday replaced Somaiya from the Mumbai North-East seat with its municipal corporator Manoj Kotak.
Kirit Somaiya had been confident of the party ticket and launched his election campaign nearly three weeks back. But the 65-year-old politician had increasingly figured that he may just have hit the road a little too soon.
Behind closed doors and in public, top Shiv Sena leaders had made it clear that they would not have Somaiya running for the Lok Sabha.
Also Read : Kirit Somaiya, a victim of his own ways?
Not after the tirade that, as the Sena saw it, Somaiya had launched against Uddhav Thackeray during the 2017 Brihanmumbai Municipal Corporation elections and beyond. He had accused Thackeray of corruption and alleged that the Shiv Sena-controlled BMC was in the grip of a powerful mafia run by a 'saheb' in Bandra.
Those attacks came back to haunt him after the Shiv Sena, which had announced its intention to contest the Lok Sabha elections on its own, agreed to stay put in the BJP-led National Democratic Alliance. The once-a-day barbs that Shiv Sena had been throwing at the BJP stopped soon after. So did its praise for Rahul Gandhi and other opposition leaders.
Also Read: Shiv Sena toughens stance against Kirit Somaiya
When BJP chief Amit Shah went to file his nomination from the Gandhinagar seat in Gujarat, Uddhav Thackeray was among the alliance partners who were by his side.
Kirit Somaiya put up a brave face. "I am very happy that Manoj Kotak ji standing with me here has got the ticket. We all will support him and ensure he wins," he told reporters, according to news agency ANI.
"Ultimately our aim is a second term for Modi ji. The responsibilities within party keep shifting, there is nothing new in it," said the BJP leader who last week attempted to reach out to Thackeray. According to reports, he didn't get the appointment.
Close