Latest from kirit somaiya
In her complaint, Medha Somaiya said she came across an article in Sena mouthpiece Saamna wherein she was accused of building unauthorised toilets by cutting mangroves without getting necessary permissions from environmental authorities
Published on Jul 04, 2022 12:11 PM IST
In a letter to the Election Commission, BJP leader Sanjay Raut has demanded stern action against Shiv Sena MP Sanjay Raut over alleged corrupt practices in the Rajya Sabha polls. He urged the poll panel to cancel Raut's election to the upper house.

Published on Jun 13, 2022 02:50 PM IST
Shiv Sena MP Sanjay Raut hit back saying: "He is an accused in the INS Vikrant fraud case. He is out on (anticipatory) bail. He should not be taken seriously."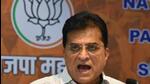 Updated on May 25, 2022 06:47 AM IST
BJP leader Kirit Somaiya and his son Neil have been accused of allegedly misappropriating funds collected for saving decommissioned aircraft carrier INS Vikrant from being scrapped.

Published on Apr 28, 2022 02:05 PM IST
Written by Harshit Sabarwal | Edited by Sohini Goswami
, New Delhi
Kirit Somaiya has been going back and forth with the Shiv Sena lately after he accused the party's "100 Gundas" of attacking him with stones, allegedly in the presence of 50 police personnel at the compound of Khar Police station on Saturday.

Updated on Apr 26, 2022 03:41 PM IST
Written by Sharangee Dutta | Edited by Aniruddha Dhar
, New Delhi