Lok Sabha elections 2019: Political debutant pitches for tribal rights in Banswara battle
The reference is for the Congress candidate from Banswara, Tarchand Bhagora, who has been a Lok Sabha MP thrice, and tBJP candidate Kanakmal Katara who has been an MLA twice.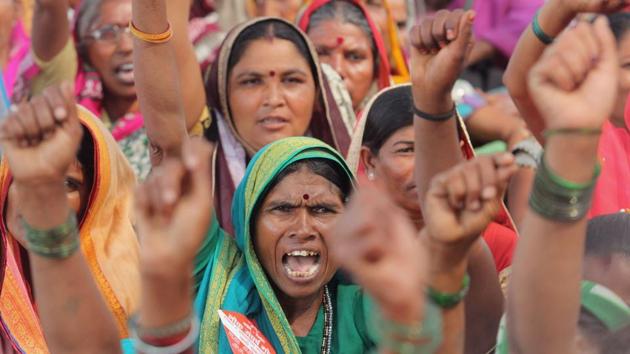 Published on Apr 28, 2019 08:41 AM IST
"Do you want a bachelor or someone who is married more than once?" asks Kantilal Raot in an election meeting under a mahua tree.
The reference is for the Congress candidate from Banswara, Tarchand Bhagora, who has been a Lok Sabha MP thrice, and tBJP candidate Kanakmal Katara who has been an MLA twice.
Raot tells the motley crowd of 50 people, including some women and children in school uniform, that he is a bachelor, meaning this is his first election.
The crowd breaks into a laugh, the women behind their veils, and raises their hands to announce their support for the man in sea-green denim shirt whose top two buttons are unfastened. Raot, 43, is the Bharatiya Tribal Party (BTP) candidate from this constituency in south Rajasthan reserved for the scheduled tribes (ST).
BTP, founded by Gujarat's Chhotu Vasava, entered Rajasthan's politics two months before the December 2018 assembly elections, and registered victory on two seats (Sangwara and Chorasi) of Dungarpur district which are part of the Banswara Lok Sabha constituency.
In Lok Sabha polls, the party has fielded candidates in four constituencies: Banswara, Udaipur, Chittorgarh and Jodhpur.
The fruits of mahua tree in Galandar village where Raot is addressing the election meeting will ripen a few days after the election process gets over, but BTP is already high on the assembly victories, much like the heady, sweet yet pungent fragrance of mahua flowers.
"For 70 years, the Congress and the BJP have played with our culture, our traditions and our constitutional rights but did nothing for the tribals," says the man with a long red tilak on his forehead whose vermillion has spilled over to half his nose.
Raot did MA in Sociology in 2004 and MA in Political Science in 2011, before getting the bachelor's degree in education and a postgraduate diploma in computer applications. He's at least 20 years younger to his rivals, Bhagora (65) and Katara (62), and is youngest among his 8 siblings.
"Don't vote for Kantibhai; vote for your rights," Raot speaks from a mobile public address system that he carries in a Mahindra SUV. The man with a lean frame speaks in Bhili, a dialect spoken by more than 10 million people, according to the 2011 census.
Chandulal Barada, who is conducting the Galandar meeting, says the tribals of the central India want a separate Bhil Pradesh. "The Bhils are present in 72 assembly segments across Rajasthan, Gujarat, Madhya Pradesh and Maharashtra. This forms 12 parliamentary constituencies. We need a state to use our resources," he adds.
People of Banswara and Dungarpur don't get drinking water from Mahi dam and it is supplied to districts in Gujarat several hundred kilometers away. "We need water to drink and for irrigation. If we have water, we don't need to migrate to neighbouring states for work," says Mukesh Kalasna, 38, of Ramsagda village in Dungarpur.
In Rajasthan, three Lok Sabha seats are reserved for the STs -- Dausa, Udaipur and Banswara. Meenas, about 7% of state's population, are present in Dausa, and Bhils, about 4%, are present in Udaipur and Banswara. The population data is extrapolated on the 1931 caste census.
Congress candidate Tarachand Bhagora also agrees that water is a major issue in the area. "My main poll promise is ensuring supply of Mahi dam water in the two districts," says the man who has been the MP from here in 1996, 1998 and 2009 elections.
Bhagora and BJP candidate Kanakmal Katara play down the presence of BTP in political arena. "They did politics of caste and managed to fool people into voting for them in assembly polls; that will not happen this time," says Bhagora.
Katara blames BJP's shortcomings as the reason for BTP success. "BTP ka na koi aadhar hai na bhawishya (BTP has no base, no future)," says the man who has been a Rajya Sabha MP and Rajasthan MLA twice.
But BTP has made the contest triangular in Banswara -- and Raot says "Kanti se hi kranti aayegi" (Kanti will herald revolution.)
Close Story
Personalise your news feed. Follow trending topics