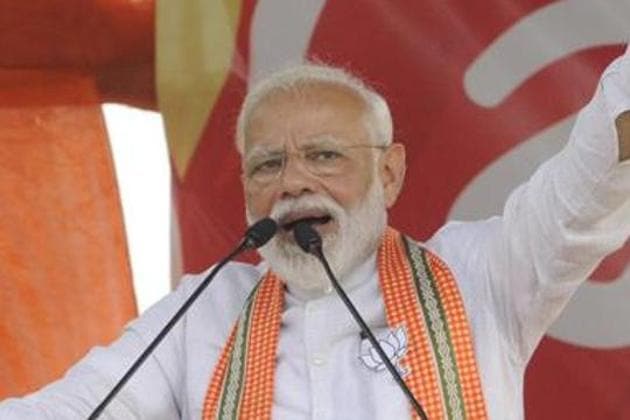 Lok Sabha elections 2019: Politicians dab poll scene with some comic relief
With the Lok Sabha election progressing, mainstays of Indian stand-up comedians, cartoonists and the creative among the general public are the Indian politicians.
UPDATED ON MAY 15, 2019 07:13 PM IST
One of the mainstays of Indian stand-up comedians, cartoonists and the creative among the general public is the Indian politician.
The funny thing about them is that each is blessed with enough talent to tickle your funny bone silly. But the moment, the target and the degree of dig (taken at opponents) is all of their choosing, providing comic relief from the otherwise bitter political diatribe, below the belt remarks, or sexist comments.
WHEN 'YOGI' SAID 'JAI AKHILESH'
On May 3, at his rally in Faizabad, Akhilesh Yadav took along a Yogi Adityanath lookalike. Akhilesh appeared on stage with the lookalike to the amusement of many on stage and in the crowd. While speaking, Akhilesh pointing at the lookalike said: "We cannot bring in fake gods, but we got a fake 'Baba'" He laughed at his own joke along with the crowd. And in the middle of Akhilesh's speech, the lookalike raised both his hands and started shouting 'Jai, jai, jai, jai Akhilesh'. All laughed, so did Akhilesh and ran to the lookalike to stop it. The crowd was in splits.
BLACK HOLE AND YETI
On April 11, when the discovery of the black hole was announced and a picture circulated as proof, Akhilesh Yadav used the opportunity to say, "Now, even the black hole has been seen. Bas acche din hi hai jo nazar nahin aate (Only better days remain invisible)." And then when the Army's claim about discovery of 'Yeti (a mythical creature)' surfaced on April 30, Akhilesh was quick to take another dig at Prime Minister Narendra Modi yet again. "It seems that 'Acche Din' are more elusive than the Yeti," Akhilesh tweeted.
Also read: Lok Sabha elections 2019: Local BJP leader killed in Rae Bareli
WHEN YOGI TRIGGERED A LAUGH RIOT
When incidents of bull attacks began happening at political rallies with the biggest one at the SP-BSP joint rally in Kannauj, Yogi Adityanath counter-attacked Akhilesh's criticism of bulls going berserk at the rallies. Yogi chose humour. With a broad smile on his face at his Shahjahanpur rally, he said: "I learnt that the other day, 'Nandi Baba' (Shiva's bull) breached the barricades and entered the Gathbandhan's (SP-BSP alliance) rally venue. It was looking for those who had opened illegal abattoirs in Uttar Pradesh. Now, even cattle are not ready to forgive them."
BHALA, BHALOO, BHOLA
Then more recently, at a rally in Sultanpur, while campaigning for herself, the BJP MP Menaka unintentionally created some moments of laughter and the video since then has gone viral. She was just about to start her speech and began reading out (from a printed list) the names of the leaders on the dais. She said: "Bhala Nishad ji (then fumbled as it appeared that she had read wrong). She intently looked at the name printed and then said: "No, Bhaloo Nishad ji". Then laughed, realising that it must be a misprint. Bhaloo is bear in Hindi. "I guess, it is a misprint. It must be Bhola Nishad. Ok, so Bhola Nishad ji..."
PRIYANKA FUMBLED, LAUGHED AS DID OTHERS
In Fatehpur Sikri, addressing a public meeting for the party's candidate Raj Babbar, Congress general secretary Priyanka Gandhi was talking about the Congress manifesto. Talking about the health component of it, Priyanka fumbled on the word 'Swasthya (health)'. She said: "Aisi yojyayaein ghoshna patra mein hain, jisme aapko swasthya sarkari haspatalon mein muft milega (The manifesto promises free health at government hospitals).' Then realising that the sentence construction was wrong, she laughed and so did others. Then she corrected it "Swasthya nahi, swasthya ki jaanch aur swasthya ka eelaj muft milega". And laughed more, as did others too.
Also read: Lok Sabha elections 2019: Young contenders lock horns in poll arena
'THIS CANDIDATE IS FOR YOUR ENTERTAINMENT'
At a rally in Gorakhpur, for party candidate and Bhojpuri actor Ravi Kishan, chief minister Yogi Adityanath said: "Yahan kaam toh hum hi karenge. Yeh candidate humney aapke manoranjan ke liya chuna hai. Manoranjan bhi zaroori hai. Inkey aaney se manoranjan ki koi kami nahin hogi (Ultimately, it is me who will do the development work in Gorakhpur. This candidate I have selected for your entertainment. There will be no dearth of entertainment if you elect him. Entertainment is necessary too). And then he and Ravi Kishan standing beside him laughed, Kishan a bit sheepishly.
Close