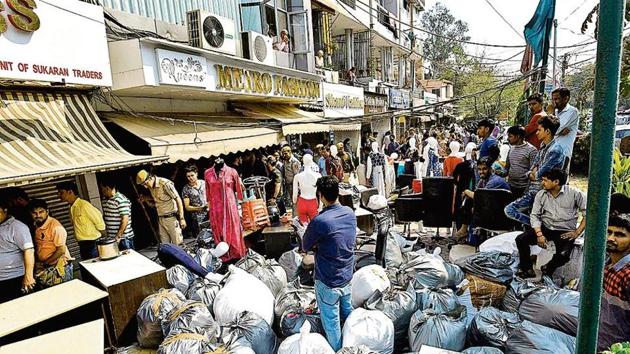 Lok Sabha elections 2019| Sealing: Traders hope new MPs mean business
Thirteen years and several rounds of litigation and rewriting of rules by the government, sealing continues to be a major contention for traders in Delhi.
New Delhi | By Baishali Adak, Ashish Mishra and Sweta Goswami
UPDATED ON MAY 07, 2019 11:49 PM IST
In 2006, over 5,000 commercial properties in Delhi were demolished and locked down in a crackdown on land use violations by a panel appointed by the Supreme Court.
Thirteen years and several rounds of litigation and rewriting of rules by the government, sealing continues to be a major contention for traders in Delhi.
The Supreme Court revived the monitoring committee in 2017 and over 7,000 properties have been sealed since.The sealing drive witnessed violence when protesting traders fought pitched battles with security forces in Amar Colony in March 2018 and the Mayapuri scrap market last month.
No wonder then, to woo this major vote base, candidates for the 2019 Lok Sabha elections have been listing measures to provide relief from sealing. These include amending the Delhi master plan and taking up the case in the court.
The traders say they are despondent yet won't give up.
"The Congress, the Bharatiya Janata Party (BJP) and the Aam Aadmi Party (AAP) — all three have come to us promising different things on sealing. They have turned it into their key poll plank for the general election. But, this time we have also pledged not to give up. Whoever wins, we will make sure that s/he sticks to the promises. Our shops have to be de-sealed," said Mandeep Singh Kohli, 45, whose shop in Lajpat Nagar's Amar Colony market was among the 400 commercial outlets that were sealed in March 2018 for illegally converting upper floors into commercial and encroaching common spaces.
The issue finds resonance in New Delhi more than any other Lok Sabha segment since nearly 4,000 of the 7,000 properties sealed are located in this constituency.
In West Delhi, Mansarovar Garden and Rajouri Garden were particularly affected.
In the hot seat
Congress candidate from New Delhi, Ajay Maken has already held at least two rounds of meetings with the shopkeepers of the markets that faced sealing, including Amar Colony, Defence Colony, Meharchand, Green Park and Motia Khan.
Speaking to traders in one such corner meeting, Maken, who has been a two-time MP from the New Delhi seat, said, "Some people say that the Amar Colony case was justified as there have been encroachments and traders are running parts of residential units as shops. This is wrong."
"Between 1979 and 2012, there have been several central government notifications allowing commercial activities in residential units of up to 200 square feet. The provision was made for small shops only. Besides, three roads in Amar Colony were also notified as commercial," said Maken, who was the union urban development minister in 2006 when the city witnessed its first massive sealing drive.
Maken believes ample ways exist within the current legal framework to prevent and stop sealing. "They all are allowed to extend shops at the front till the right of way and up to the footpath. On the back, the extension is allowed up to 17.5 feet," he said.
Maken is contesting against the BJP's sitting MP from the seat, Meenakshi Lekhi, and Aam Aadmi Party's (AAP) debutant Brijesh Goyal.
According to Lekhi, putting an end to sealing is not as simple as Maken claims it to be. "It is unfair to make false promises the way the AAP and Congress are doing. I have been saying it repeatedly that sealing needs to be fought strongly in the Supreme Court. The monitoring committee has to be convinced. That is the only way. Being an MP, we can raise the issue in the parliament as I did last year. That's how an MP can help," she said.
Urging traders to vote for the AAP on May 12 in Delhi, AAP convener and chief minister Arvind Kejriwal on Monday said the BJP-ruled centre has unleashed "tax terrorism" on the traders. "Give all the seven Lok Sabha seats (of Delhi) to us, I will ensure that there is no sealing in the national capital. You (traders) strengthen our hands, we will ensure justice," he said.
Lekhi, on the other hand, said that lakhs of traders had already been provided relief after the union housing and urban affairs ministry notified amendments in the MPD-2021 in June last year. "The Master Plan was amended to allow 350-floor area ratio (FAR) -- earlier Local Shopping Complexes (LSC) were allowed 180-225 FAR -- and use of the basement for commercial activities. We have also slashed the user conversion charges (a charge paid to the civic body for using a residential building for a commercial purpose) from Rs 89,000 per sq.m to Rs 22, 274 per sq.m," she said.
In October last year, the BJP-ruled north and south municipal corporations had issued guidelines, based on the amendments, for regularisation of commercial units in LSCs.
Despite all these policy changes, traders say the impact of sealing is far from over. "After all this, the shops remain sealed. The corporations say they cannot de-seal because the monitoring committee has said the amendments can't be implemented as the matter is subjudice. So, basically things remain where they were," said Sudhir Ahuja, general secretary of South Extension Part II market.
AAP's Goyal said besides fighting the court case, he would also focus on shifting markets in case he becomes an MP. "For several markets, relocation plans are ready with the civic agencies or the governments. But, they are not being implemented for some reason or the other. If I become an MP, I will shift these markets and create fresh hubs that would conform to all norms. Monitoring in terms of encroachment will also be done," he said without explaining how he will convince the traders to shift their shops to another location.
He, however, did not reply to why the Delhi government has not been able to notify 351 roads as commercial in the city.
The third eye
Experts say that it will take much more to stop sealing in Delhi.
Shamsher Singh, who retired as the chief town planner of the South Delhi Municipal Corporation (SDMC) in November 2015, and was associated with the preparation of the city's Master Plan 2021, said halting the sealing drive will be difficult because everything depends on the Supreme Court.
"Currently, many markets like Amar Colony or Meherchand are being sealed because the roads they are operating on are not notified as 'mixed-land use' or 'commercial'. Since all these matters are planning issues which the Supreme Court is directly looking at, you cannot do anything without drawing the attention of the apex court," he said.
Singh recalled how on March 6, 2018, a bench of Justice Madan B Lokur and Justice Deepak Gupta had pulled up the Delhi Development Authority (DDA) for slashing the one-time conversion charge for commercial use by a mammoth 75%. DDA was also asked to explain on what basis this was done.
Problems galore, but hope floats
Traders say the sealing drive has not only affected their businesses but also taken away a lot of jobs.
"Each shop had a helper or two. Owners of bigger shops had more people working for them. Even restaurants have been shut, which means 20-30 people in each such eatery lost their jobs overnight," said Surendra Maheshwari, 50, a trader in Rajouri Garden's marble market.
Maheshwari, a resident of Mansarovar Garden, said no candidate from any political party has approached them on the issue of sealing.
Congress candidate from West Delhi constituency Mahabal Mishra said that he and his party will stop sealing in Delhi. He, however, could not specify how he will do it.
Mishra said that he had been meeting the traders in Rajouri Garden and Mansarovar Garden markets and assured them that he will raise the issue in Parliament.
Rajinder Mallik of Defence Colony market, the place where sealing had begun in 2017, said there's little left in the hands of traders now.
"All we can do is wait and watch and hope that things would get better some day," he said.
Close