Lok Sabha elections 2019: What's in a name? Everything if it's on an EVM
Your name may even swing the fortunes of contestants. That's probably why in West Delhi, Parvesh is facing off with Pravesh, Balbir Singh Jakhar is taking on Balbir Singh and Mahabal Mishra has a M Mishra to contend with.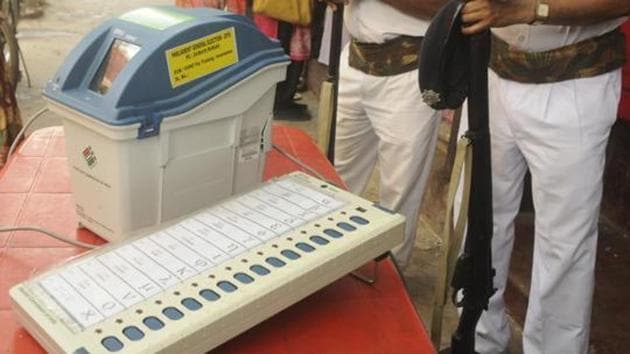 Updated on May 08, 2019 07:15 AM IST
What's in a name, Shakespeare had asked. It's all in the name, say political parties and candidates in the fray for Lok Sabha elections 2019. In fact, your name may even swing the fortunes of contestants. That's probably why in West Delhi, Parvesh is facing off with Pravesh, Balbir Singh Jakhar is taking on Balbir Singh and Mahabal Mishra has a M Mishra to contend with.
Each of the candidates fielded by the Aam Aadmi Party, the Congress and the Bharatiya Janata Party — the three major national parties in the segment — has an independent namesake fighting against them. As a result, the task of identifying the candidate residents actually want to vote for will mainly depend on their familiarity with the party symbols.
Parvesh Verma, the BJP candidate and sitting MP from West Delhi, is up against Pravesh Sharma, an independent . Aam Aadmi Party's (AAP) Balbir Singh Jakhar has a Balbir Singh, independent, as a rival. Congress candidate Mahabal Mishra, a former MP from West Delhi, has an independent rival Manoj Mishra, who is going by 'M Mishra'.
BJP's Verma said these might be just coincidences, but pitting "candidates of the same name" is an old trick from the book of politics to "confuse" voters; but nowadays, it rarely works.
"Everyone checks symbol before voting; and with the advancement of technology, voters know almost everything about their candidate of choice. Delhi voters don't fall for these silly attempts by the opposition to confuse them," Verma said.
Verma's namesake, Pravesh Sharma, is a 36-year-old lawyer, who says he wants to do something for the people of the country. Unlike Parvesh Verma, Pravesh says he does not have a political legacy.
Parvesh Verma is the son of former Delhi chief minister and popular Jat leader Sahib Singh Verma. "I am a lawyer; a common man wanting to do something for society," the independent said.
Despite being a first-timer, AAP's Jakhar has many namesakes in the fray. During the filing of nominations, five people — including the 47-year-old AAP candidate who is a lawyer in the Dwarka court — with the same name filed nominations. Of the four, only one person's papers were found in order.
Balbir Singh, 56, who is contesting as an independent, said, "This is my name. Does that mean I cannot fight elections just because another candidate from a recognised party has the same name?" Singh, who is fighting elections for the first time, identifies himself as a social worker. He said people should not underestimate "new politicians". "The AAP was also new once. People want someone to change things," he said.
AAP's Jakhar, however, laughed it off and said the "rising number of Balbir Singhs" was only indicative of the rising popularity of his party and the threat that he is posing to his opponents. "This is a compliment," he said.
'M Mishra', on the other hand, said there was nothing intentional in him crunching his first name to a single letter. Mishra, also a lawyer, reiterated that his candidature is not backed by any political party. "I have fought several elections in residents' welfare associations etc, but never on such as large scale. I am a lawyer and my campaigns are also restricted to people I know. How do the parties think a person like me can damage their votes? Unless they know that they have not done much work in the past," he said.
In the Chandni Chowk constituency, AAP candidate Pankaj Gupta, a software professional, is pitted against another Pankaj Gupta, a resident of Tri Nagar, who is "privately employed", according to his affidavit.
When HT contacted the namesake, he refused to speak on the issue.
While mainstream candidates in the national capital say they are not threatened by having namesakes in the fray, in smaller towns and villages, political parties use this tactic to split votes and candidates are always wary of such rivals.
In the 2006 assembly elections in Tamil Nadu, for instance, Thol Thirumavalavan from the Viduthalai Chiruthaigal Katchi (VCK) party lost from Kattumannarkoil constituency by a margin of just 87 votes. Curiously, an independent candidate by the name of T Thirumavalavan managed to get 289 votes.
Congress president Rahul Gandhi was pitted against two namesakes — Rahul Gandhi KE and Raghul Gandhi K — in Wayanad constituency in Kerala, which went to polls on April 23.
Although it's not illegal, the election commission has been trying to keep a tab on such contestants to ensure that the nomination is not filed on the basis of ill intentions. Senior officials from the Delhi chief electoral officer's office said the onus of exposing "fake" candidature lay with the candidates of the recognised political parties.
"Not everyone who has the same name as candidates of recognised parties is contesting with an ill intention. This is a democracy and some common names are likely to feature in the list. That is the reason why we scrutinise the affidavits thoroughly to reject fake contestants," an official from the Delhi CEO's office said.
Sanjay Kumar, from the Centre for the Study of Developing Societies (CSDS), said although candidates cannot be blamed for having same or similar names, but if they are able to swing even a few votes away from the candidate of a recognised party, it makes a difference. "Even if these independent candidates are able to garner a few dozen votes, it is essentially a loss for the candidate from a major party. Such things come into play when the finish is close," Kumar said.
Former Delhi Congress president and party's election campaign in-charge Subhash Chopra said these namesakes seldom cause any damage. He said Delhi voters check the symbol before pressing the button. "The trend is that people usually vote for the PM instead of the MP. They recognise their candidate from the party symbol, so the issue of these namesakes is rarely an issue at all," Chopra said.
Close Story