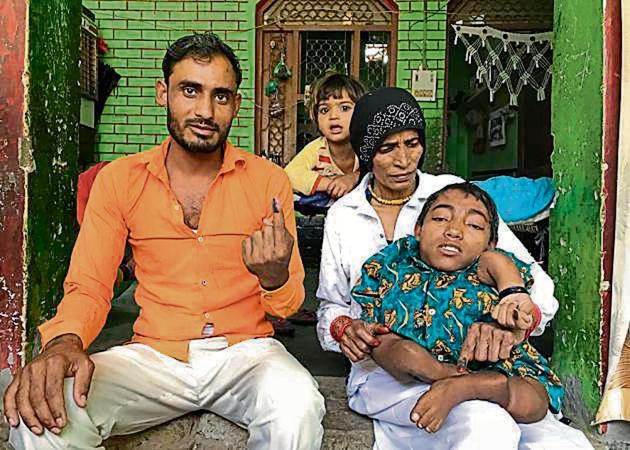 Lok Sabha elections 2019: Scores of elderly, differently abled voters come out to make voices heard
Sarijna was among the several differently abled voters who came out in the scorching heat to vote and make their voices hear.
Hindustan Times, Gurugram | By HT Correspondent
UPDATED ON MAY 13, 2019 08:21 AM IST
For 21-year-old Sarijna, who suffers from a rare genetic disease called Osteogenesis Imperfecta or brittle bone disease, casting her franchise this year was important.
"I voted today to get my disability pension; nobody has ever listened to my brother's appeal," she said, as her mother and brother picked her up and took her inside a polling booth in Mewat's Rahedi village. As a result of her disease, Sarijna is not able to walk or sit straight. Even a slight jerk can break her bones into pieces, her family maintained.
Shaukin, her brother, said they never expected Sarijna to survive for long and, till recently, they never asked for help from the authorities. "Over the last few years, I have been running from pillar to post, taking her along with me, to get her pension account opened. This time, through our vote, we hope to bring about a change and get our appeal heard," Shaukin said.
Sarijna was among the several differently abled voters who came out in the scorching heat to vote and make their voices hear.
Tara Devi, 53, who suffers with polio since birth, walked to booth number 113 — at a government school for girls on Sohna Road — to exercise her franchise. Her husband, Narayan Singh Saini, who works as a labourer, brought her to the polling station on his bicycle. Devi said, "I asked my husband to take a leave from work today and help me cast my vote. I don't want my disability to stop me from voting."
Age, too, wasn't a barrier for voters. Despite deteriorating health, scores of elderly citizens made it to the polling booths to select their representative in the Lok Sabha.
Ganeshi Bai, who said she had never missed voting since the 1960s, came to booth number 110 on Sohna Road taking support of a walker. The 77-year-old said, "Nehru was the Prime Minister when I voted for the first time. Since then, whichever party I vote for wins the elections."
Meanwhile, 101-year-old Chandra Bahan, a farmer, came to vote at a government middle school in Rampura village, 31 kilometres away from the city. He was carried inside the booth by his relatives. He said, "I have never missed an opportunity to vote. Earlier, I used to vote in Shikokpur but now I vote here."
Some injured and differently abled voters, however, did complain about lack of facilities inside polling stations.
An elderly woman, who resides in DLF Phase 2, had to wait for more than 20 minutes for a wheelchair in the afternoon sun as the only wheelchair at the booth was already in use. "There should have been more wheelchairs, considering more than 60 voters are at the booth at any point of the day," she said.
Close