At UP police station, man allegedly gives triple talaq to first wife and marries another
Sep 27, 2018 10:01 AM IST
A case was filed at a police station in Bijnor under the triple talaq ordinance - the first such case in Uttar Pradesh -against the man on the complaint of his first wife's family.
A man allegedly divorced his first wife by pronouncing triple talaq and solemnised his second marriage at a police station in Bijnor district of Uttar Pradesh, prompting the family of his first wife to lodge a case of instant divorce against him on Tuesday.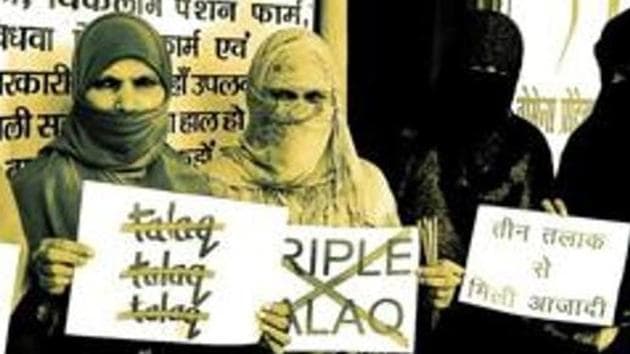 This is the first case of triple talaq in Uttar Pradesh after the Union cabinet made it a punishable offence through an ordinance on September 19.
Though the residents claimed that the accused man gave instant divorce to his wife and married another woman at Kotwali Dehat station on September 23, the police refuted the allegations.
Superintendent of police (SP), Bijnor, Umesh Kumar Singh said a case of instant divorce had been registered against six people under section 3/4 of the Muslim Woman (Protection of Marriage Ordinance, 2018) at Kotwali Dehat on the complaint of Shahnaz, the mother of triple talaq victim Sultanat.
He said a probe had been ordered into the alleged role of police personnel in 'triple talaq' and 'nikaah' inside the police station.
In her complaint, Shahnaz accused her son-in-in-law Gulfam, a resident of Baruki village in Bijnor, of giving triple talaq to her daughter. She also accused Haji Iqbal, Sharafat, Chandshah, Nazaqat and Anees Ahmad of pressuring Gulfam to divorce her daughter and marry another woman.
Shahnaz told the police that Gulfam had married Sultanat on July 15 this year.
She alleged that later Gulfam succumbed to the pressure of some people and divorced his wife over the phone.
A local resident, who did not wish to be named, said Gulfam had an affair with a woman before his marriage but his family was against it.
"The family arranged Gulfam's marriage with Saltanat against his consent. Gulfam's girlfriend was constantly pressuring him to marry her. She reached his home on Sunday and threatened to commit suicide if he did not marry her," he added.
He said Gulfam, his girlfriend and other family members were brought to the police station to sort out the issue where Gulfam agreed to divorce his wife and marry his girlfriend.