Endangered soft-shelled turtles get new lease of life
Updated on Mar 26, 2017 01:05 PM IST
District magistrate, Allahabad, Sanjay Kumar has started efforts for the revival of turtles.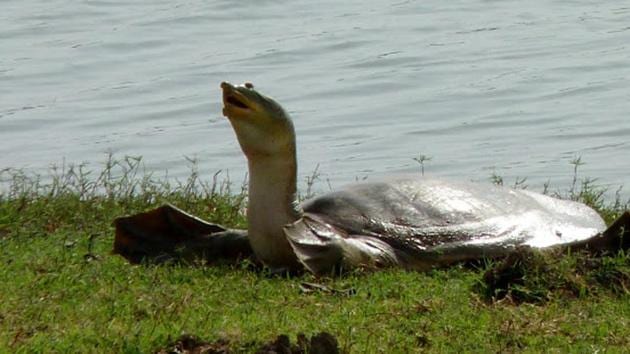 Allahabad, Hindustan Times |
, Allahabad
Smriti Malaviya
In an effort to protect the soft-shelled turtles in the Ganga, an NGO Turtle Survival Alliance, India, in collaboration with the district administration has set up a major centre of rehabilitation, education and rearing of freshwater turtles at Handia, about 40 kms from Allahabad.
District magistrate, Allahabad Sanjay Kumar started efforts for the revival of these turtles after finding that they were getting trapped in large numbers in the fishermen's nets and that they were not caring to release them back in the river. These turtles were also caught on large scale for smuggling. "These turtles fetch good prize in the market. Therefore, it became very important to educate farmers and fishermen of the need for the protection of soft-shelled turtles," said district magistrate, Allahabad Sanjay Kumar, who is heading this project.
"We are trying to associate the turtle survival programme with Namame Gange project so that more number of government departments and organisations could work in coordination with each other for the survival of freshwater turtles in the Ganga," added the DM, who is also a renowned wildlife photographer.
Talking to Hindustan Times, the DM said they had started educating the farmers to use turtle excluder device in the nets so that turtles could easily escape without getting harmed. "We will also provide them the same if required. Farmers, having farmland near the Ganga are also being educated how to take care of the turtle nests along fields of the riverbed. They are being encouraged to protect the nests from poachers. Also, they have promised that they would temporary exempt these small patches from farming," he said.
According to the DM hatcheries would also be set up in Handia where besides fishermen and farmers school children would also learn the importance of protection of these turtles, besides techniques of rearing their hatchlings. The nursery-reared hatchlings would then be released in the Ganga. "It would be done in collaboration with Uttar Pradesh Forest Department along with WWF-India," he informed.
It is worth mentioning that the country has banned the trade of tortoises under the 1972 Wildlife Protection Act. Though the enforcement teams of the forest department keeps a close watch on poaching and smuggling of turtles, this illegal activity continues to go on.
Read more| Back from the brink of extinction: How the Gangetic dolphins made a comeback
Personalise your news feed. Follow trending topics