Potato glut, price slump lead to losses for UP farmers
Mar 06, 2017 01:23 PM IST
Uttar Pradesh sees increase of 20% in crop yield, but farmers not even able to recover input costs
This Holi will not be a season of much cheer for farmers as the state faces a potato glut. Despite good crop yield, they are not even able to recover the input cost of their produce.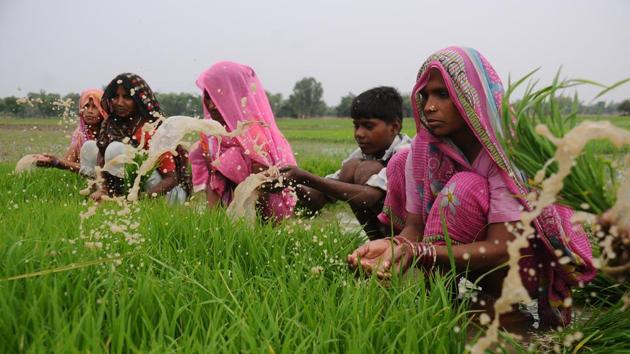 Uttar Pradesh witnessed an increase of about 20% this year in the areas under potato cultivation. There has been increased production as the weather too remained conducive, said Ram Saran Verma, a leading farmer of Barabanki who has introduced many innovations in potato farming.
"Farmers are getting Rs 3-4 per kg in the wholesale market for potato that is being sold at Rs 8-10 in the market. The cost of production alone has been around Rs 4 per kg and thus farmers are running into losses," said Verma.
Kannauj, Barabanki, Farukkhabad, Firozabad and Agra are some big potato producing areas in UP.
The scenario is same in other potato producing states, including West Bengal, Gujarat and Bihar, where potato has been priced almost at the same rate in the wholesale markets.
The reason for low prices is very good yield this season. "Last year, the potato market was really good. Farmers sold their yield for Rs 8-10 in the wholesale markets. This is what led to more farming of the crop this season. But that has brought us losses," lamented Ram Gopal, a farmer from Firozabad.
Farmers said there isn't any provision for food processing in the state. "We need some chips factories where our harvest can be utilised. Else it will all go waste," said Surendra Kumar, a farmer from Sultanpur.
Farmers are queuing up at cold storages to get their potatoes stored. They are apprehensive that rising temperatures would lead to a lot of potato wastage.
According to farmers, there are over 700 cold storages in UP. But as production has been good this time, these storages are likely to be full to capacity and farmers would have to sell off their produce at low prices.
"Farmers who manage to get their potatoes stored will be safe. But others are sure to incur huge losses. About 30% of the produce is likely to get either spoiled or farmers will be forced to sell it off for Rs 1-2 per kg," said Verma.
Read more: Prepare roadmap to prevent farmer suicides, SC tells government