Rohingya Muslims intruders, not refugees, says Yogi
Yogi Adityanath believes that Rohingyas could be a security threat to India if they are allowed to settle in the country.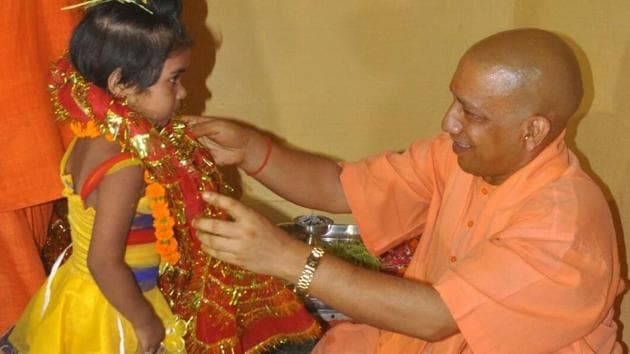 Published on Sep 29, 2017 08:56 PM IST
Uttar Pradesh chief minister Yogi Adityanath on Friday backed the Centre's stand on Rohingya Muslims who have fled from Myanmar and criticized rights groups for advocating sympathetic treatment for these displaced people.
Adityanath insisted that Rohinyas were not refugees.
"The Centre has clarified its stand on Rohingyas. They are not refugees, they are intruders. Many innocent Hindus were killed in Myanmar, and it was found that they (Rohingyas) have a link with terrorist organisations," Yogi told reporters on the sidelines of 'kanya pujan' programme at Gorakhnath Temple.
"It is sad and condemnable that some people are expressing concern and sympathy for their plight," he said.
Replying to a query on the construction of Ram Temple in Ayodhya, he said the issue was related to the religious sentiments of the people and the court's verdict was awaited.
"The government is not a party to the Ram Temple case," he added.
Adityanath reiterated his plan to celebrate Diwali in Ayodhya and said preparations were on for the programme.
"The holy city of Ayodhya has a special significance in Sanatan Hindu Dharma. We have decided to hold celebrations in Ayodhya on the eve of Diwali. The details of the programme will be issued in the first week of October," he said.
Read more: The law is clear: India can't deport Rohingyas
On the growing number of police encounters, Yogi said his government was committed to restoring law and order in UP.
"Under previous governments, politics was criminalised and crime was politicised. Our government is dealing with criminals with a heavy hand," he said.
He also hit out at the opposition for mocking his government on the issue of low amount of farm loan waiver. Adityanath said that those who were responsible for the pitiable condition of farmers were now cornering him for helping them out.
"Over 13 lakh farmers have been covered in the first phase of loan waiver scheme. Of these, only 4,000 farmers got waiver between Rs 10 and Rs 10,000. The remaining farmers got waiver between Rs 10,000 and Rs 1 lakh," the CM said.
And while senior BJP leader and former Union finance minister Yashwant Singh set off a firestorm in the party earlier this week with a stinging newspaper article on the state of the economy, Adityanath gave a thumbs up to the Centre's economic policy insisting that demonetisation was a brave step that dealt a heavy blow to corruption.
"Today, India is the fastest growing economy. The steps taken by the Centre on the economic front have been appreciated by the nation and the world alike," he said.
Although BJP leaders have stuck to the line that India is the world's fastest growing economy, the World Economic Forum in a report in June had ranked India the fourth fastest growing economy.
Adityanath also said his government was trying to give a new identity to Uttar Pradesh and progress was visible within six months of the BJP coming to power in UP.
Close Story